I started looking at old on-line references to get some info on the Ditson music publishing company and turned up some interesting newspaper clippings.
Now I'm hooked......... for the past few months I've been sniffing out old newspaper articles mentioning fiddle contests (and fiddlers conventions, fiddler's picnics, etc.). It is interesting to see the tunes that were "required" at the old fiddle contests, as well as the categories for fiddling prizes (oldest fiddler, oldest fiddle, biggest feet, see original post, etc.). Numerous citations of blind fiddlers, and people who made their own fiddles. Some events held cakewalks at which they had black minstrel bands. One article was an apology for an event where the sponsor announced the names of the black cakewalk musicians and some of the contestants stayed away because they didn't want to compete in a fiddle contest with blacks.
One newspaper article gave an opinion that fiddler's contests should be outlawed because they attracted a rough crowd. One article was a blow-by-blow account of a private fiddler's contest at which a monumental fight broke out (according to the article, the sponsor served moonshine with the refreshments) and an old family feud was re-kindled.
Fiddler's contests were used for fundraising for schools, fire companies, etc. Local businesses contributed merchandise for contest prizes (sacks of flour, butter, clothing, watches, produce). One guy who sponsored an old fiddler's contest asked for people to attend because he was blind and had no other way to support himself (playing the sympathy card).
I came across some other interesting contests at fairs and carnivals..... "ladies nail pulling contest", numerous "ugliest man contests", etc. It may be a function of the survival rate of old newspapers, but certain town newspapers (notably the Hopkinsville Kentuckian) had many more notices of fiddle contests and more creative / interesting write-ups of the contests. Even in the early 1900's people viewed fiddle contests as a nice reminder of "the good old days".
I'm having a lot of fun doing this, may compile the articles into a printed collection.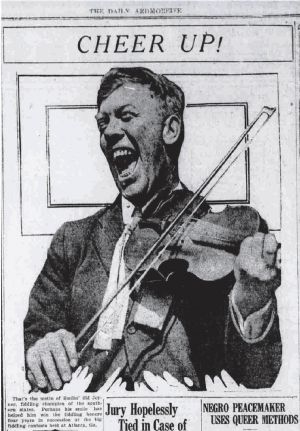 ---
Be the first to comment on "Fiddling in the news"
You must sign into your myHangout account before you can post comments.