If you've read my previous blog entry you know. I'm an official flute in Concert Band. Yep. First row, right in front of Mr. McCreary (sucks because he can hear my sour notes). The other flutes are all to my left, one oboe to my right.
Oh yeah. I don't play just any old flute. I play a stringed one, AKA the violin.
I didn't feel so alone when I saw that there was only one oboe player.
As you may know, horns are inclined to play in flat keys. Easier for them.
The first song we played, which was "easy" for them, was in Ab Major. Four flats. When he handed me that piece of music I just about passed out. Four flats? On the first day? I faked playing it, hid behind my music stand, for that first class.
I guess I can be thankful we didn't start in something like Gb. (if we did I would have stood politely and walked out of the class)
I'm getting worried, though. Only been playing in concert band for a week now and I think my playing is getting worse. Could that be right? I haven't really had time to practice my violin songs or keys for violin because all my time is wasted transposing flute sheet music one octave lower or trying to get the intonation for flat keys correct. This is pretty crazy, because as the keys for the horns get harder for them they will get easier for me. Haven't played my beloved banjo for days, I've been so busy.
As terrible as it is I love the band. I love to hear all those instruments which I have never really seen or heard before. I love to play with them, even though I don't sound very good. I've made friends with the flutist to my left and of course the lone oboe player. The teacher is so funny.
But I'm still worried about my playing. This was not meant for a violin, this is not an orchestra. The bi-weekly tests, I have no idea about. The quizes? How in the world am I going to take a flute-test? I want to learn the violin, not the flute!
Do you think I should make an enquiry about those private studies? Would it be better, you think? I love the concert band very much, but my desire to learn and improve is greater. I am not like some of these people that may set their instruments down for good after highschool. I believe music will be a part of me for all my life.
Thanks, everyone.

BM, der Freischutz.
---
6 comments on "Playing the Stringed Flute. Should I switch to private study?"

OTJunky Says:
Thursday, August 23, 2012 @3:39:13 PM
FWIW, IMO if you want to learn to play violin you should find a violin teacher and learn to play music intended for violin.

I don't know how big the town is that you live in. If it's big enough, the violin teacher will have other students you can play with - and maybe there'll even be viola and cello students around so that you can play string quartets.

I think that if you want to play violin, you need to hang out with other string players. I do appreciate the social aspect of playing in a band and it is valuable. But these are trade-offs you have to make.

--OTJ


richdissmore Says:
Thursday, August 23, 2012 @4:11:17 PM
will don,t give up you will get the hang of this new music my fiddle teacher plays with the concert band and also with the Samphony and also with chamber groups she is not the only violin player in any of the groups good luck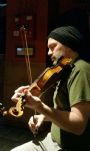 mad baloney Says:
Thursday, August 23, 2012 @7:03:45 PM
when I challenged myself and learned flat keys my overall intonation got worse for little while then when it clicked it got better - it's part of learning - there's some things to know, I muddled through and taught myself and asked people willing to share what they know - prolly woulda been easier if I had a teacher though

Freischutz Says:
Friday, August 24, 2012 @5:14:54 PM
OTJ, I already know how to play the violin. I don't know everything (i.e. flat keys) but I can hold my own. I do not want a teacher, I believe I am past that stage where I would find lessons enjoyable. They would help I'm sure but I doubt there is a violin teacher around here for miles. No time, no money for lessons as I am just starting highschool. But thanks for the input.
(I do not text, what does FWIW mean?)

Good to know that my intonation will probably improve with time. Kind of scary.. practicing even more than usual but you feel like you're getting worse.

Does anybody know anything about those independant classes? I think with a little help from my genius music teacher and a lot of practice I could get a lot better on my own.

OTJunky Says:
Friday, August 24, 2012 @5:53:00 PM
FWIW = "For what it's worth"

--OTJ


richdissmore Says:
Sunday, August 26, 2012 @4:45:38 PM
at any time you go to a teacher it can speed your learning up thats why i go to a fiddle teacher i,m just learning yes i,m 65 and learning new things i,m really enjoying the training after 40 years of playing guitar and bass guitar in many bands country to old rock roll made my liveing playing for three years it was the only job i had then i had that stroke. now i,m starting over trying to play the stroke took away some of my abillty to play and remember songs its comeing back very slowly .playing is a life long comitment i have i,ll just see were it takes me
You must sign into your myHangout account before you can post comments.