Saturday a friend showed up with a van, and a friend of my wife's showed up to help her and drive her over to the new place. (My wife has a long term illness and needs extra TLC, and I was grateful because this way I could focus on the logistics... which I'm none too good at.)
And the bigger part of it got done... but oh was I tired Saturday night and Sunday. Found muscles I didn't know I had.... and we don't have any really huge stuff. Didn't get to play Saturday... didn't play fiddle Sunday either.
The fiddle hating cat was a concern of mine... the last move was hard on her... I think the kitchen reminded her of a veterinary office!!! She wouldn't come out of the cat-carrier for the longest time. I was hoping it would be easier this time, and it turned out that way in hindsight. But I've been avoiding the fiddle until she'd settled in. Bring along her familiar bed, food dish, cat box and scratchers seems to have helped. And LOTS of reassuring pets!!!
Well, this morning she seemed settled enough, so I got out the fiddles, Carthy went first. Carthy hasn't gotten much playing time yet, and feels a bit tight and sounds a bit tight. The natural reverb in the living room is just what the doctor order to smooth over the tight sound and encourage me to play Carthy more so it will get played in. Then I got out Booker. Booker doesn't have the low end Carthy has, but it's so much easier to play. It's like the sound flows out of it effortlessly. Playing Carthy in contrast is a bit of a workout. I THINK I notice it's getting easier to play and sounding better the more I play it, but how much is me getting used to Carthy or Carthy getting used to me (i.e., getting "played in", I don't know.
When I checked out the cat in my room afterwards, she wasn't freaking out, in fact, she seemed quite relaxed. That's a relief!
I haven't moved the computer yet, the leases overlap, and I'm leaving it hooked up there till the phone gets shut off.
This blog entry is written on a computer in the computer room at the new apartments. I've been thinking of cancelling internet service altogether since these are available, but usage is limited to an hour a day, and it's only open during office hours. And as I'm typing, I'm noticing the keys on this Dell keyboard are too stiff and are flaring up my carpal tunnel.
So, I'm thinking if I cancel, it won't be for long, and I'll just find a better rate than AT&T.
Actually, while the big push was done on Saturday, there's still more to do... one of my sisters is coming tomorrow to help, plus I'm taking stuff little by little as I remember we need it. The plus to that is that the new place isn't looking chaotic- as stuff comes in, it gets put away.
(Edit- Tuesday night)
Well, I survived the second big push of the move- my sister and a friend of my wife's with a pickup truck came to help. Again, I'm exhausted, but okay.
---
4 comments on "Because It's Moving Day... Movin' Day..."

fiddlerd Says:
Tuesday, May 15, 2012 @6:15:23 AM
Moving is tough anyway you look at it! You don't know how much stuff you have till you have to pack it up to move. Wife. pets and fiddle's made it ok....(not necessarily in that order). Have fun at your new place.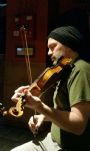 mad baloney Says:
Friday, May 18, 2012 @6:40:30 PM
How's the new place? You like it? Let us know

fiddlepogo Says:
Sunday, May 20, 2012 @4:41:20 PM
Overall I like it pretty well.

A couple flies in the ointment:

The hood over the stove has no ductwork! It'll catch the grease in the air, but it won't send the cooking smells out of the apartment.
Parking is at a premium... I never know where I'm going to end up parking.
Quite a bit of street noise too.

However, life's like that. I think on the whole it's a plus.

fiddlepogo Says:
Sunday, May 20, 2012 @4:44:46 PM
Oh yeah-

New apartment is more cheerful, and I get my own room.
Shower controls are better, less danger of scalding.
Neighbors are mostly more friendly.

You must sign into your myHangout account before you can post comments.