Posted by schlange on Tuesday, April 3, 2012
Our storage server has been down all day, which means that all the "file-based" content on the site has been unavailable. This includes all photos and MP3s.
We're working with our server administrators to replace the server and restore from backup--we're hoping it will all be up sometime tomorrow afternoon. Thanks for your patience!
---
5 comments on "Storage Server Problems..."

Cyndy Says:
Wednesday, April 4, 2012 @6:32:45 AM
And thank YOU for taking care of all the behind-the-scenes stuff so we can enjoy the Hangout. : )


richdissmore Says:
Wednesday, April 4, 2012 @6:42:49 AM
yes thank you for looking in to the problem

tmchurch Says:
Thursday, April 5, 2012 @1:26:54 PM
i take it that as of 4/5 the storage is still down?

Thanks, Terese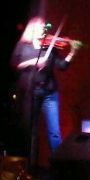 fiddledd Says:
Friday, April 6, 2012 @8:30:12 AM
Thanks for the update.... just noticed this trying to post an ad photo. -- sheryl

Jed Todd Says:
Friday, April 20, 2012 @11:11:43 AM
Lets all show our thank's by joining the union, a massive thanks from the uk Eric, jed
You must sign into your myHangout account before you can post comments.