Background.... when I first started playing fiddle again after a 15 year hiatus, I noticed a ringing in my left ear. That ear had been damaged by a severe ear infection, making it more susceptible to loud volume and excess treble... not a good combination for the ear closest to the fiddle- so I immediately started using a foam earplug in that ear. That did the job for a long time, for one thing, the foam ones are cheap.
A few months ago, I had an ear infection in the right ear, and when I finally got that ear to open up and could hear out of it again, THAT ear had gotten hypersensitive to treble. YUCK!
I couldn't use two full foam plugs now, since that cut down my hearing WAY too much.
I did cut down a pair of foam plugs and that worked pretty well- I took maybe a couple of millimeters or three off of the end with a pair of sharp scissors.
Somewhere along the line, I had bought a set of these from Hearos Rock 'n Roll Series: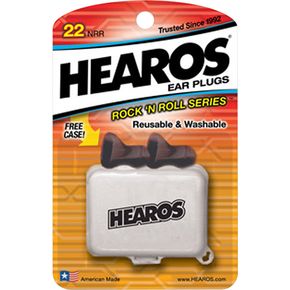 Relatively cheap at about $5.00, and comfortable and washable. I started using them again, but there was something I didn't like about them, couldn't put my finger on it. I experimented by using one of them with a foam plug- that was better.
Yesterday I stopped by the music store that is within walking distance, and picked up a set of these from Hearos High Fidelity Series:
A bit pricier at $15, which is scary, partly because I'm prone to LOSING this kind of stuff!
I tried them at yesterday's volunteer gig, and they ARE good... better than the Rock and Roll series... but you know me,
I HAVE to experiment!!!
So I just tried ONE of the High Fidelities in one ear, and ONE of the Rock 'n Rolls in the other, and I think it's the best yet- each one seems to dampen a different frequency range... and I think what I so often have disliked about earplugs before is that when you have two of the same design, they are both going to be damping a certain frequency range more than others. But having one of each allows each ear to pick up a slightly different range of frequencies. I have them both in right now, and things are definitely attenuated, but it's more like natural hearing- I'm hearing very nearly EVERYTHING, but softer. And of course that works on the fiddle too- with the identical pairs of plugs, they were either damping TOO MUCH of the highs, so things seemed muddy, or too little of the highs and too much of the bass.
What I was just playing before I sat down to write this was about the most natural feeling practice session yet with earplugs.
I also reversed the "GOOD" combination... and surprisingly, yet not surprisingly, it sounds quite different- since both ears are damaged, they don't themselves naturally have a balanced frequency response. I'm going to have to experiment to see which is going to work best in which side.
One thing remains to be seen- will this combination work well in jams??? My guess is that it will.
And of course, I now have TWO sets of this good combination!!!
One I think will STAY in the case of my gigging fiddle, and the other will stay at my desk where I usually practice fiddle.
LATE ADDITION:
Because I did internet searches to find the pics of the earplugs, now I'm getting lots of advertising including them from Musician's Friend, etc!!!
Also, I found the actual package, and it says High Fidelity Series For Long Term Use- and the package is about the same color as the Rock 'n Roll Series pictured above.
---
3 comments on "Ear Plug Breakthrough- I THINK!!!"

BC Says:
Tuesday, January 17, 2012 @4:22:16 PM
That's good to know. Thanks Pogo! I've developed tinnitus among all the other old man maladies I have. I do wear hearing protection when I'm grinding or welding my Datsun, but never gave much thought to ear plugs while fiddlin'. I suppose I should have gotten the hint, everyone else in the house wears 'em when I got a fiddle and bow screeching!

mudbug Says:
Wednesday, January 18, 2012 @2:13:28 AM
I've used both. I like the Hi-Fi's better. Not as good as the one's I had made, which were sweet, but I did lose them, actually pretty darn quick, and 6 years lator it STILL pisses me off. Compared with those, 15 bucks is cheap and just like sunglasses, the cheap one's seem to stay around forever.

Ozarkian DL Says:
Wednesday, January 18, 2012 @9:53:52 AM
Tinnitus has plagued me most'a my life, probably from working around a woodworking planer
fer a couple years to 33 years railroad work ( very noisey ), and have used about all tha ear protectors on tha market from foam to headphones. Tha first half of my railroad career they were not allowed....tha second half of my tenure they were required ( after many lawsuits ).

For fiddlin some sound has'ta come through, and finding tha right amount is dependent upon the user ( comfort consideration too ). For maximum muting protection a chewed-up piece'a
hand towel paper served me best. I do'nt use em fiddlin. I still have bouts of tinnitus.
You must sign into your myHangout account before you can post comments.