This is a great version of Monroe doing Uncle Pen. Others must think so too because it has a bunch of hits on Youtube. Best version I've heard because of the beat and Bobby Hicks fiddling. Bobby looks like he just got his drivers license, he is so young in this video.
http://www.youtube.com/watch?v=r2XT9u7iw9o
Well, a funny thing is that I've watched several versions of this tune in the last few days. This has led me to also searching threads on the fiddle tunes "Boston boy" and "Jenny Lynn". So I've never listened to Uncle Penn before this week, but as I usually do, I taped episodes of Hee Haw and Porter Wagneer to check out the tunes. Both episodes I taped this week had folks playing Uncle Penn. So I have this link to this tune this week. I started learning Jenny Lynn yesterday, choosing to play it in GDGD.
You know, we talk about how fiddle will take a lifetime of practice and improvement over decades of years. Bobby Hicks has been playing all his life and has the experience of how many years now? Yet, here he is in this video after 15 or so years of playing and he was good enough to be on TV and play with Bill Monroe so that is inspiring.
**I just did a search. Bobby was born in 1933 and started playing fiddle around the age of nine. He started playing fiddle with Monroe around 1954 so by this video he had been at it for possibly less than 15 years, amazing.
---

mudbug Says:
Sunday, April 3, 2011 @4:36:06 AM
Hey, Stew! I bet if you put as much time into fiddling as you did snowblowing this winter, you'd be as good as Bobby, already. :-)

ChickenMan Says:
Sunday, April 3, 2011 @11:07:07 AM
The bluegrass band i'm playing with asked me on Monday to learn that tune. By practice on Wed.
I had it mostly worked out. Had to laugh when the vocalist said, "We'll do it in A like Ricky Scaggs does."
My response was, "We'll do it in A because it can't be fiddled correctly in any other key and
A is the key everyone does it in."
For more information - Boston Boy is in C.

Andah1andah2 Says:
Sunday, April 3, 2011 @1:16:02 PM
True Steve. I am growing weary of this winter. Time for gardens and fly fishing! I did play outside today for a bit.

Jenny Lynn has proven to be a good 'un. I'm liking GDGD btw. Still get that sound without the high shrill of AEAE.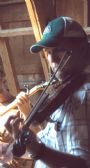 David M. Says:
Monday, April 4, 2011 @11:37:15 AM
I heard that when Kenny Baker played Jenny Lynn on the Monroe recording, he did it in standard, key of A. Sure is easier to me in A cross (or the G cross like you mention).

Boston Boy is most certainly in C. Soldiers Joy is in D.

mudbug Says:
Monday, April 4, 2011 @12:35:12 PM
Hey, Stew.......uh.......look out the window. Surprise, Surprise, Surprise! More snowblower practice.

2005fiddler Says:
Tuesday, April 5, 2011 @6:49:58 PM
Bobby is just as nice of a guy, as he is a fiddler. I had the privilege one night to talk to him, he talked to me about when he started with Bill, he took Gordon Terry's place when Gordon got drafted into the Army. I only got to speak to him on the phone, would like to meet him face to face one day, and I know all I would have to do is drive up and join one of his fiddle camps sometime but to many hindering causes to do so. Oh yea, one other thing, I told him that I had an autographed fiddle that I got Gordon to sign and would he be willing, if I sent him postage to sign this fiddle also, and he said he would, so I sent it (insured of coarse didn't want to loose it) and it came back autographed. I thought that was awfully nice of him. He is A++ in my book.
You must sign into your myHangout account before you can post comments.