Posted by Celeste on Thursday, January 24, 2008
I'm starting to post sound files on my Banjo Hangout home page. No fiddle yet, just banjo and voice.
http://www.banjohangout.org/myhangout/music.asp?id=1542
---
6 comments on "My music on Banjo Hangout"

FiddlerFaddler Says:
Sunday, January 27, 2008 @10:03:07 PM
I have, and you are terrific - I love your voice and your frailing. Thanks for the posts.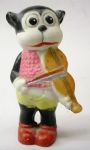 PInky Says:
Friday, June 6, 2008 @9:41:07 AM
I love your voice, Celeste! Sounds great with your banjo playing.
-Pinky

PeachyPicker08 Says:
Wednesday, August 13, 2008 @8:26:18 PM
I play banjo and fiddle and can't give either up, you have a lovely voice and style, too bad you are so far away.

PeachyPicker08 Says:
Friday, August 29, 2008 @10:38:09 PM
Just dropped by to say 'Hi'.

Ozarkian DL Says:
Sunday, April 18, 2010 @5:49:15 PM
Your singing & playing........."CELESTIAL".

FiddleJammer Says:
Tuesday, June 21, 2011 @3:58:48 PM
Nice, thanks for posting.

You must sign into your myHangout account before you can post comments.