But not at the same time-yet.
And I'll be back there again today-a lovely heavy overcast is happening,perfect for weeding and such when not being able to be under a tree. The Apricot tree is full of fruit,tho so far this batch the apricots are very tiny & I'm wondering if they'll be worth picking-they're just turning from green to their "peachy" color.
One of my favorite mags has a how to article on making produce bags from mosquito netting,so I got myself a yard,have 4 cut out & just need to sew em. That'll cut back on plastic usage as well as save me frustration-I'm one of those who fumble forever with those super thin plastic bags in the produce section-takes me forever to get one open to place fruit into.
Playing wise,I need to increase my playing time. During the day I just get this urge to be outside-and there's tons of work to do before the heat of summer hits- which is when I'll be hiding in my house with the fan on.
I am progressing as far as hitting the notes-changing fiddle sizes threw me,and I've been using an electronic tuner while doing a D scale to see how on I am. I'm getting there,and at least know when I'm off a bit. I also want to learn more tunes,which I do better learning on mando & then playing on fiddle. Medieval tunes are getting my interest of late. Peg dope and a new set of fine tuners on all 4 strings have made tuning effortless-it was horribly difficult before due to slipping pegs-which of course would happen as soon as the string was in tune. I need to update the photo. Been reading the latest issue of Fiddler magazine,which I now subscribe to. :-)
The store has been slow-I don't know if it's due to the stock market,Mothers Day,or what but I'm working on promoting music books,etc as a gift for Dad providing he's a musician. New stock should be arriving monday,so hoping to stock the cyber shelves monday evening. I might have a custom order for a ukulele gig bag as a friend of mine just got a sweet deal on a teak wood pineapple uke-for $39.....she's thrilled!
---
3 comments on "In The Yard & Making Music"

Humbled by this instrument Says:
Sunday, May 16, 2010 @10:07:39 AM
Hi Sherrie. My four peach trees aren't as full as last year. Apple tree had fifty thousand apples last year, this year ten. Millions of blackberries and rasperries. Gadzillion olives. Good crop of almonds. Tea plants, the drinking kind, Camelia sinensis, doing fine. Grapes, orange blossoms good...no apricots, though. When the garden's looking this good, I have to play "Blackberry Blossom!"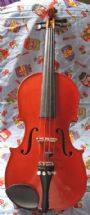 CelticRose Says:
Sunday, May 16, 2010 @2:45:07 PM
sounds like maybe it's not a great year for some types of fruit. Dad mentioned the tree booms every other year. Last year I couldn't give em away fast enough. Had tons of em. Wish I knew how to can as I miss not having home made apricot jam in the winter.

Rene Says:
Sunday, May 16, 2010 @3:07:50 PM
I have one peach on my peach tree. I suppose when it's ripe I'll get out the candles, one piece of fine china and share it with the husband.
You must sign into your myHangout account before you can post comments.