I haven't meant to be away from here as much as I have. The yard has been calling me & I've also been busier getting advertisements out for my online biz. (yep-I do have an ad running here!) Wanting to get a certain amount of things accomplished before the summer heat hits & melts any enthousiasm when it comes to things to be done outside. I'm still working on a 3/4 fiddle I aquired that I need to get parts for before I put it up for a new home. I'm hoping the other 3/4 I started on gets a bid-I'd like it to go to someone who will find they love playing fiddle. The one I'm playing now sounded a lot better once I put a set of Preludes on it-the Huang set sounded awful-shrill,no warmth,just cheesy. Lesson learned-don't get strings cause they're cheap!
I had to get peg dope for mine also-had two pegs that just wouldn't stay put & always when I had it close to pitch. Meant I didn't play for a week until the stuff arrived. I have to get a case for this latest one I'm playing so I'm window shopping at this point.
---
3 comments on "Gearing Up for Outdoor Activities"

ChickenMan Says:
Sunday, May 2, 2010 @1:32:32 PM
My cousin just learned the cheap string lesson on his guitar.
He bought some cheap Walmart brand after getting his guitar back from Colorodo, and it couldn't keep it in tune for nothing.
He said his daughter had someone work on it and he thought they messed it up. I suggested changing strings...It plays like a dream now.

mudbug Says:
Sunday, May 2, 2010 @3:28:45 PM
"Oh, Sherrie, hold on, hooold on, hoooold on". Sorry. Hey, were those Huangs steel or synths? I've been wondering about the Chinese synths.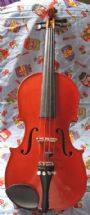 CelticRose Says:
Sunday, May 16, 2010 @8:18:35 AM
They were steel,mudbug! there's a lot of em for sale on eBay for under $5.00
You must sign into your myHangout account before you can post comments.