Posted by Ptarmigan on Sunday, March 14, 2010
Fans if Irish Fiddle Music might like to check out my new:
This site promotes not only Irish Fiddle playing & the Fiddle Music of Ireland, but also those who enjoy playing this wonderful music, through Videos & MP3s of their playing. On the site you can: POST MP3s of your own Irish Fiddle Music; POST VIDEOS of you playing your own Irish Music; POST PHOTOS of your musical Irish Fiddle Music experiences and instruments. You can also help to build up this site, as a useful home for all players & learners of Irish Fiddle Music, by posting links to useful Irish Fiddle Music Websites including Irish Fiddle Music Videos on YouTube which have inspired you. Feel free to initiate discussions too, on any aspect of the Irish Fiddle Music on our Forum & please use the Blogs to keep us posted on your own Irish Fiddle Music activities. Please keep us informed too, of all the exciting Irish Fiddle Music related Events coming up in your own area. While doing all this, in time, you will be able to enjoy a selection of great Irish Fiddle Music tracks, posted by our members here, on our 'Pop-out Player'. Cheers Dick
Cheers,
Dick
---
6 comments on "My New Irish Fiddle Forum!"

brian bishop Says:
Sunday, March 14, 2010 @9:01:05 AM
Thanks Dick, Looks great, I have really enjoyed the Irish banjo site you set up as well.

emviolins Says:
Sunday, March 14, 2010 @9:22:46 AM
Just the site I have been looking for!

Ptarmigan Says:
Sunday, March 14, 2010 @2:11:47 PM
Glad to be of service guys! :-)
Cheers
Dick

Jacksquat0 Says:
Monday, March 15, 2010 @11:45:56 AM
This is great, Dick! Can't wait to check it out.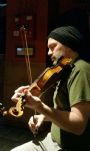 mad baloney Says:
Thursday, February 16, 2012 @7:17:43 PM
tried to check it out but got a 404 error


flutinggnee Says:
Tuesday, July 2, 2013 @2:03:11 PM
Is it gone? It was set up in 2010.
You must sign into your myHangout account before you can post comments.