Posted by David M. on Tuesday, March 9, 2010
Heading with the family to Edisto Island, SC this Sat. for Spring Break. Man, I can't wait. It'll be good to be in Southern weather instead of the grey midwest stuff. Got some family in Charleston, so that's icing on the cake.
---
6 comments on "5 days till the Beach!"

robinja Says:
Tuesday, March 9, 2010 @7:36:11 PM
Jealous! Looks like the weather may cooperate with you. It's been a cold winter in the South, too, and Charleston even got some snow last month!

bj Says:
Tuesday, March 9, 2010 @9:09:57 PM
Have a great time! After the winter we've had we ALL need some beach time!

mudbug Says:
Wednesday, March 10, 2010 @12:16:43 AM
Sweet!!!!!

CornFedFiddler Says:
Tuesday, March 30, 2010 @9:24:18 PM
Jealous! Sounds like it was warm and wonderful!

Ozarkian DL Says:
Thursday, April 8, 2010 @7:55:17 AM
Awwww.....jus look what u'z missin Dave..........
http://www.kcci.com/news/23084468/detail.html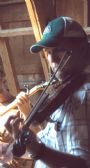 David M. Says:
Thursday, April 8, 2010 @8:16:30 AM
Dang. There wasn't any hail in Edisto Beach :)

We had some good hail here in Muscatine the other night.
You must sign into your myHangout account before you can post comments.