Posted by David M. on Monday, July 20, 2009
We're playing at a dance for a wedding in the Amana Colonies ( www.amanacolonies.com/ ) on Aug. 22nd and we'd like to have a POLKA or two handy. Our bass player will play accordian on it. I only know 2 that I can recall: Jenny Lind Polka; John Ryan's Polka. Hopefully I can learn another couple before the dance. I barely know Jenny Lind and usually only play it if it's called out at a dance or jam I'm playing. Seems I may have played Monroe's Heel and Toe Polka in the past, but can't recall it.
Anyone play good (preferably German sounding) polkas that could share suggestions and MP3's? I appreciate it! This'll be a fun dance. Don't know who the caller is, though.
Thanks!
---
7 comments on "I Need some POLKAS"

Cyndy Says:
Monday, July 20, 2009 @6:52:20 AM
Vivian Williams' FIDDLE TUNE REPERTOIRE BUILDER PACKET 110 has a bunch of polkas: Atkins Polka, Clarinet Polka, Flannigan's Polka, Grandfathers Polka, Helena Polka, Red River Cart Polka, Canadian Heel & Toe Polka, Jenny Lind Polka

Here's the URL for more info: http://www.voyagerrecords.com/ws.htm

Cynthia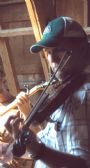 David M. Says:
Monday, July 20, 2009 @7:12:21 AM
The "Red Hills Polka" that on the MP3's here in the media archive is super. I love Bob Holt's fiddling and I guess it's a tune of his.

mudbug Says:
Monday, July 20, 2009 @10:34:48 AM
When I was a teenager in the 1960's, I played in a wedding band. There was a large Polish population in my town, and the two polkas that I remembwer were "The Beer Barrel Polka ( Roll Out the Barrel)" and " Oh, I Don't Want Her, You Can Have Her, She's Too Fat For Me, Hey " although I don't know if it's politically correct anymore!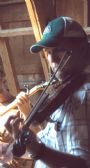 David M. Says:
Monday, July 20, 2009 @11:08:00 AM
MudBug, probably not ;-) I remembered at lunch today that Joys of Quebec is a polka, so there's another one I know. Art Stamper has a good one called Barn Dance Polka that our guitar player reminded me of. Might try that one soon.

Swing Says:
Monday, July 20, 2009 @12:56:26 PM
Pensylvania Polka, Winter Flower, Red River Cart, Country Serenade, Jean Synder's Foxtrot

That will keep you busy for a couple of days,

Play Happy

bj Says:
Monday, July 20, 2009 @3:52:09 PM
Poke through the Jehile Kirkhuff files. I know there are at least 8 or 9 that are named as polkas, and probably a bunch more that are but aren't obvious about it.
http://homepage.mac.com/WebObjects/FileSharing.woa/wa/default?user=edwardberbaum&fpath=Jehile%20Fiddle%20Tunes%20A%20to%20C&templatefn=FileSharing7.html

And then, coicidentally, I started this thread yesterday:
http://www.fiddlehangout.com/forum/topic.asp?TOPIC_ID=9926

peerke112 Says:
Monday, July 20, 2009 @4:31:26 PM
Hi David

I have 77 polka's to choose from.....

http://62.131.235.156/bbb/index.php?option=com_dbquery&Itemid=159&task=ExecuteQuery&qid=8&previousTask=PrepareQuery
You must sign into your myHangout account before you can post comments.