Posted by bj on Thursday, July 9, 2009
This seems to be the ONE skill that is totally eluding me. Though I do it all the time at the jam, and you'd think I'd get better at starting tunes just by DOING it . . . I'm not. Even though I've been running my own jam for a few months, I STILL suck at it. And that's even though I end up starting most of the tunes, despite calling for others to do so.
When I remember to do the potatoes kickoff, I either start it too damn fast or way too slow. Most times I don't remember, I just start wimpynoodling into the tune and hope people catch on. And it's guaranteed the first time through will have some major oopses, though I eventually get into the groove. But it's a miracle anyone can even recognize the tunes I start, the kickoff is that bad.
Oh well, at least I'm most times getting the other end most of the way right. I usually remember to put my foot out, and if I'm standing, I can USUALLY keep fiddling with no mistakes (though occasionally I start to fall over and blow it bigtime!)
One of the guys who sometimes comes to my jam and is a pretty wonderful fiddler has offered me a few lessons. Maybe this tune kickoff thing is a great place to start . . .
First lesson is tonight. Wish me luck.
---
10 comments on "I wish I could start tunes better . . ."

mudbug Says:
Thursday, July 9, 2009 @3:21:54 PM
Good luck on your lesson! That's the beauty of personalized instruction. You can really home in on specific areas that you want to improve, whether it's as bad as you think or not. And there's ALWAYS something that seems to need attention, n'est pas?

bj Says:
Thursday, July 9, 2009 @3:29:29 PM
Yes. I'm giving it a try. There's nothing to lose with this situation, except a bit of my time. And there just might be a lot to gain. We'll see.

Humbled by this instrument Says:
Thursday, July 9, 2009 @3:53:25 PM
I've solved your problem for you. Listen to tons of Grateful Dead live recordings (they're all over), and note how precise and formulaic their beginnings and endings are! Then you'll have it inside your head and all you'll have to do is transfer it to your fiddle! Man, I'm good. By the way, Jerry loved to wimpynoodle too. Love that word. Awesome.

musekatcher Says:
Thursday, July 9, 2009 @6:04:28 PM
It gets better. One thing that helped me, was accepting that I'm on my own when I start and lead a tune, and preparing to drive it all the way to the end with little or no help. For a long time, I kinda started a tune, and waited for others to join in and help, which never seem to generate much excitement.

Cyndy Says:
Thursday, July 9, 2009 @7:08:36 PM
A few weeks ago, realizing that the only thing I'm good at when it comes to potatoes is eating them, I decided I would start tunes that way when I practice so that it would become really comfortable and second nature. Well, so much for that! Haven't gotten into the groove there yet. But it seemed like such a good idea when I was thinking about doing it. I guess, though, I can't keep shuddering and shaking my head in my ensemble class group when they look at me to begin something. OK. You've inspired me. I'll give it a try . . . Thanks!

I know EXACTLY what wimpynooding is, by the way, but I never had a name for it! (smile) That's usually the way tunes start in the regular jam I attend. I like it because it gives me a chance to wrap my mind around a tune and get my bearings before the tune gets loud and fast.

Two paragraphs. Next time I'll try to leave a comment rather than a book. (smile)

FiddleJammer Says:
Thursday, July 9, 2009 @8:39:36 PM
Wimpy noodle through a B part, if only in your head, and it might help you come into the A part stronger. You might even figure out a few bars intro to use next time around.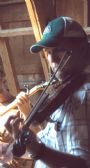 David M. Says:
Friday, July 10, 2009 @11:25:55 AM
BJ: one thing an old timer in Ky used to talk about is the "taters" count. He stressed its importance and to put it into the tunes, not only at kick off.

Practice doing it for a long time each time. When it becomes 2nd nature, you can integrate that bowing into ALL OT tunes and it'll help you when you kick off the tune. Bow the taters at different deliberate speeds and make sure the accent is right where you want it (daaaaaah da da daaaaaah da da ...). Bow it slow, then speed up. It's a practice exercise in itself and will really help linber up the bowing arm/wrist. Good luck.

robinja Says:
Friday, July 10, 2009 @3:07:58 PM
I have been struggling with this, too, especially with my little Farmer's Market gig tomorrow. A lot of tunes that I play don't really fit the "taters" kick off...and I'd like for our tunes to start out smoothly when we're playing. Another kick off that I've been experimenting with is a little pulse-y alternate - kind of "Daaaaaaaaaah da Daaaaaaaaaah da Daaaaaaaaaaah da Daaaaaaaaah da......" with the Daaaaaaaaaah longer than the shuffle Daaaaaaah. Basically, it's a long down bow with a very short upbow to reset. And I agree that it is hard to get the tempo right with any of these methods, especially when you're on the spot. I have improved, but still not where I want to be.

bj Says:
Friday, July 10, 2009 @4:08:24 PM
*hums* Just a box of rain . . .

Well, I had my lesson last night. About halfway through the lesson, after I learned a tune he taught me, which we played started and stopped a few times for Greg to "refine" it for me, Greg comments, "Wow, when you get to the middle you do just fine, you really got a nice groove going. Why don't you just start there?" If only . . .

ajisai, I LIKE your books, so keep 'em coming! And it doesn't surprise me that you instantly KNEW what wimpynoodling is!

Judy, that looks to me like the georgia shuffle, well, kinda the georgia shuffle. If the long note is a three count, then that's what it is, but it usually starts with the short bow. And that's one of the suggestions Greg made last night is to kick off with either the Georgia or a four count of sawstroke until I get better at kicking off with 'taters. And he also said the same thing you said, David M, that I have to get over my dislike of kicking off with 'taters, and practice it a whole lot more until I get more comfortable with it.

Jessi Says:
Monday, July 13, 2009 @11:34:53 AM
Woo Hoo! Now I don't feel so alone.

Last week I asked my fiddle teacher to MAKE me do taters and endings ON EVERY TUNE, 'cause I'm SO SCARED of them. I felt stupid asking for this elementary help from my teacher - like this is something I should have learned to do long before the more fancy stuff....

But, it's getting better. He's making me play the song a little to get the tempo in my head, then stop, think of the tempo, and then start over with the taters.

I do fine until I have to actually START the tune. I stall, freak out, and think, "Oh no, here it comes!!"

Frankly - I just have to have a teacher MAKE me do it, or I won't.

I listen to the digi-recordings of my lessons and it makes me cringe. But, after one lesson I feel more confidant.

For me, the taters announce the group to the audience, and how well I do them sets the tone for the band, and the expectations of the audience.

For such a shy person, this is really, really, really hard for me.
You must sign into your myHangout account before you can post comments.