Posted by David M. on Thursday, June 25, 2009
Got a gig on the 30th, this Tues. I believe it even pays.I was asked by the Muscatine county Arts Council to perform for the "PatriArt" week, which celebrates the week of or before the 4th of July. Should be fun. My buddy Marc Janssen will play some guitar and mandolin with me as well as sing some great high parts in some duets we're gonna do
The ones I'm excited about: a twin mandolin medley in D (Camp Meeting on 4th of July/New Five Cent/OverTheWaterfall); What Would You Give In Exchange for your Soul (good brother duet thing w/Marc on mando, me on guitar); The Unclouded Day (good song w/some places for breaks); Rabbit in a Log (another brother-duet thing that'll be rippin' fast); and breaking out a couple of new original SONGS and fiddle tunes. Probably play for an hour to hour and half.
Got me thinking about how folks prepare themselves for gigs and get their voices ready. Any secret tips for you singers out there? I heard someone recommend good hydration the day of the gig along with some Ibuprofen. Sounds like a good idea. Might keep some cough drops handy for the throat.
Might even break out my made-up song about Fried Okra, one of my favorite side dishes. My mom's is the best and she uses corn meal, not flour breading. Good ol' Alabama food... My sons love it.
---
5 comments on "Gig on Tues. the 30th - PREPARING"

ChickenMan Says:
Thursday, June 25, 2009 @10:49:06 AM
Hydration is paramount. We lose a lot of water when we sing - think of the icy fog you exhale in the winter and multiply that by the extra effort one uses for projection when singing. Otherwise, I just sing all the time in the car and whatnot so I do little else to prepare vocally. The ibuprofen has become part of my regime but that's mostly for my back :-)

Gonna get me a briar....

mudbug Says:
Thursday, June 25, 2009 @5:13:47 PM
Usually, I'm setting up two hours early, so I'll have a couple beers while I set up. Then I get a couple of tonic waters with lime and or Rose's lime juice, to keep on stage and drink while i play. I figure that the English used Quinine ( tonic water) to deal with the heat in India, so it must be powerful juju. Plus I don't like sweet cloying drinks like soda while singing. It must work ( at least for me), because I've done many a 4 hour gig, sometimes a few nights in a row, with no problems. Oh yeah, I get new drinks before every set, so I'm probably drinking a couple quarts of the stuff.

bj Says:
Thursday, June 25, 2009 @9:53:12 PM
Don't drink anything cold. Drink warm beverages, like hot tea with lemon and honey. I know that's counterintuitive when it's over 80 degrees out, but it's better for your voice. Cold drinks do the opposite of warm up your vocal cords. You'll hit those high notes with more strength if you stay away from the cold beverages.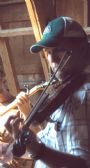 David M. Says:
Friday, June 26, 2009 @8:59:50 AM
Great tip about the warm liquids, BJ. This same gig I did last year I had a raspberry iced tea right before going on. My voice seemed to lock up on me and wasn't as "open" as it should have been. I'll try some warmish water, tonic water, or tea this time. One thing I've noticed is that nerves can dry the mouth, too, and I tend to get stage fright sometimes.

mudbug Says:
Friday, June 26, 2009 @5:47:54 PM
David, nerves and stage fright can definitely dry the mouth and tense up the throat. You might try getting to the gig 2 hours early to set up, take care of any equipment issues and still leave yourself plenty of time to kick back and relax. You have a great voice and you play well. Everyone in the audience WANTS you to do good, so jump on that stage and slay 'em!
You must sign into your myHangout account before you can post comments.