Posted by David M. on Wednesday, June 10, 2009
A buddy of mine here in town wants me to lay down some fiddle/mandolin on 4 tracks for a cd coming out soon: I Am A Pilgrim; Homegrown Tomatoes; Columbus Stockade Blues; and The Blues My Naughty Sweetie Gives to Me. Should be fun, though I'm not as prepared as I should be. I know the songs in my head well, though, and that's the main thing. The mando stuff will be a piece of cake since it's my 2nd instrument, but the fiddle can give me fits when recording. I recently did another mando session on a guy's cd that's coming out soon and hopefully they got something they can use.
Hope this one's better than the last time I played fiddle for a recording session. I wasn't happy that time at ALL. But I wasn't into the songs much and I felt very intimidated by the pedal steel player who was there. He was absolutely amazing and I was blown away by him.
Recording's intimidating when you don't do it much. But this will be an easy going, laid back thing and several takes that he can use all the stuff and chop it up if need be. Keeping fingers crossed (pointers and advice welcome) that I can pull out some good fills and decent, creative breaks. As I've mentioned, I've done it some before over the past 5-10 years, but not alot, so it's not 2nd nature to go into a studio. These guys gig around alot and it'd be fun to play with them some if invited.
---
4 comments on "Recording session tomorrow night"

mudbug Says:
Wednesday, June 10, 2009 @1:35:10 PM
Congrats on going into the studio. The studio is a different environment and all depending on the people involved in the project, can be very stressfull to some. It's definitely being "under the microscope". Some musicians I know, can't handle the stress involved, even on low key recording sessions. Just remember, on someone elses project, you're not there to make yourself happy, you' re there to make him happy. You being happy is an extra bonus. Remember, he asked you to be on his project because he LIKES your playing. Knock 'em dead!

Rene Says:
Wednesday, June 10, 2009 @4:30:45 PM
I strive for the day when someone says "Hey could you play fiddle on my upcoming CD?" Hope I make it to that point.

bsed55 Says:
Thursday, June 11, 2009 @8:06:18 PM
I've been in a recording studio a couple times. Believe me: You are NEVER!! happy with the final outcome. There's always a long list of stuff you want to change or have done better!!

That Pilgrim tune/song---->Is it the song by Steve Earl? We've been doing that one in Loose Change (my band). If it's the same, I'd love to hear you guy's take on it!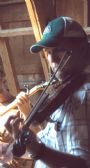 David M. Says:
Friday, June 12, 2009 @6:04:55 AM
BSED, 'I Am a Pilgrim" is (I think) attributed to Merle Travis, though I think it may be trad.? Not the Steve Earle song that's on his The Mountain CD. The Byrds the one we did along with many others.
You must sign into your myHangout account before you can post comments.