Posted by David M. on Monday, May 18, 2009
Don't know why... I'd like to try to learn some old time banjo stuff. I fingerpick guitar, so most likely some other style than clawhammer where you have to lead with index finger. I could better lead w/the thumb, I reckon.
Any pointers on the Charlie Poole style? Tunings, etc. I haven't dug too deep into it yet. Need to get one first. I have a fiddle I'd trade for one if anyone has one. I might post up a classifieds for this...
I have a 4-string tenor that I keep cross tuned and pick fiddle tunes on.
---
6 comments on "Thinking of getting an open-back 5-string"

FiddleJammer Says:
Monday, May 18, 2009 @5:03:32 PM
I've been working on the bum-ditty since about November. Brings a lot of fun into the picture. Good luck!

FiddlerFaddler Says:
Monday, May 18, 2009 @8:34:56 PM
Unless you already have enough fiddles to have them tuned in all your favorite cross tunings, don't be trading that fiddle away. It is better to have more fiddles AND more banjos, at least enough to cover the spectrum of desired alternate tunings.

Have fun fiddling and clawhammering.

bj Says:
Tuesday, May 19, 2009 @4:04:16 AM
LOL! I read your headline, and was trying to figure out if an open backed fiddle would even PLAY!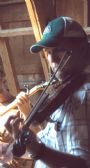 David M. Says:
Tuesday, May 19, 2009 @6:11:58 AM
Well, it'd play, just real quietly. Maybe that's what I need most :)

fiddlepogo Says:
Tuesday, May 19, 2009 @10:30:22 AM
David,

You'd best be gettin' yourself over to the banjo hangout.
Do a search on Charlie Poole style and thumb lead, I'm almost positive you'll find SOMETHING.
A lot of us ARE 5-string banjo pickers, but I almost always play only clawhammer. Fingerpicking Old Time banjo players are just not that common- one who does (but no idea if he plays thumb lead) is Chip, a banjo picker from Georgia, who's on the Banjo Hangout.

farmerjones Says:
Wednesday, May 20, 2009 @2:05:07 PM
D. y'all are out of the pan and into the far.
I will say BHO really helped me find my best bang-for-buck banjo. Frailers and pickers don't freely admit to speaking to one another. But all the world loves newbie. Take yer stimulus check, go to Elderly, and get a Bart Ryder banjar. Be sure to order strictly by phone. Hartford said, hard times with a banjo are better than good times without one.

You must sign into your myHangout account before you can post comments.