It was a thread early in the history of the Fiddle Hangout that got me started on the TUF (thumb under frog) bow hold (Thanks, Glenn!), and after a week, I was hooked, and have stayed hooked. I found almost immediately that I could play better with it (better and quicker string changes), sound better (slightly stronger attack) and feel better (less pain from long sessions). Given the very rhythmic bowing style I use, these pluses are absolutely HUGE!
However, I have experienced several relatively minor problems, and I have found fixes for them which I'd like to share with you other TUFfers.
1. Since bows are designed for the conventional hold, using TUF can throw the balance of your bow off. Fixes:
A. add a little weight to the frog- I usually use a twist tie now.
B. hold the bow as close to the hair as possible, which puts the balance point very close to the Thumb On Stick balance point.
C. Buying a new bow with a balance that feels right with TUF is also an option.
D. Swapping the adjuster screw for one of a different weight is a possible solution.
2. Solution B above makes another problem worse- the underside of the frog is smooth and a bit slippery, and the smoothest slipperiest part is the silver part which is where you end up if you move the thumb closer to the hair. So I've used masking tape or cut up a bandaid to provide a grip. There is also some super grippy material used for laptop grips which I'm thinking of buying- I'm almost sure it would be excellent for the purpose. (I forget the brand-name)
3. It took me a while before I figured out how to keep my thumb bent with TUF. I find that if I put the thumb across the frog at right angles, I can't bend the thumb enough. But if I lay it across at a 45 degree angle I can get lots of flex, so I'm trying to be more careful of how I pick up the bow now. Adding a flexed thumb to TUF feels awesome!
4. I wasn't getting good wrist action with TUF until I pulled the tip of the ring finger to the top of the stick- that angled the wrist correctly for a fluid wrist action.
5. This wasn't really a problem, but one day I tried bringing the middle finger to the top of the stick, and it felt REALLY good, like it improved control even more (which was already good with TUF). I analyzed why, and it seems that it's because then I'm pinching the bow between the middle finger and thumb right below it. The two then act together as a secure but flexible pivot point or fulcrum, and the index and ring finger provide the leverage. I then realized that the middle finger doesn't HAVE to be on top of the stick, it just needs to exert a little pinch in relation to the other fingers. However, the middle finger on top seems to automatically tilt the bow forward, which might have pluses, so I'm not sure at this point which position I'll use for it, but I will use it to pinch whereever it is.
6. TUF doesn't confine you to one place in relation to the frog like the conventional hold does. This has pluses and minuses: It's a plus because you can use the flexibility to possibly find a better balance point on a given bow, but a minus because if you aren't careful, you can pick up the bow differently every time, and this lack of consistency is not a good thing for really getting control of the bow. Solution #2 is a help. You could put the grip wherever the bow balances best. In addition, I've twisted a thin wire or twist tie around where the frog joins the silver ring that goes over the hair. That also helps to keep the thumb in the same place if you are keeping the thumb fairly close to the hair. That wire allows you three distinct positions in relation to it- on the silver side, on the pearl side, or right on top of the wire.
Anyway, with all these little tweaks and adjustments, my bowing arm feels fantastic- and people can see the difference- one guy who had done Suzuki method violin himself said "It looks like your bowing arm is floating!" And I also find I can bow more expressively which for me is the point of playing this very expressive instrument- even on Old Time dance tunes!
---
8 comments on "Fine Tuning the TUF bow hold"

bj Says:
Friday, March 13, 2009 @7:11:47 PM
I'd comment but the TUF didn't work well for me, especially after I dislocated my thumb, which seems now to be just a bit um . . . weak. Regular bowhold is less stressful on it. I am currently doing some analysis of bowing though, since Dee loaned me one of her bows that she's going to sell (and despite my budget lately just might have to buy since it is SWEET.)

It's always interesting to read your analysis since it gives me ideas for analysis of my own. Which I won't clutter your blogpost with, I'll just have to write one of my own. :-)

SMDTMTL Says:
Friday, March 13, 2009 @7:42:38 PM
I enjoy your analysis Michael... I can always relate to it... Like BJ, the TUF also doesn't work for me,... somebody famous once said "the unexamined life is not worth living"...same perhaps for unexamined musical technique..... I also experiment with bow holds and arm positions and such relentlessly...endless fun these musical instruments.... keep it up. The TUF grip was interesting for me... had some good points, but there was one part of the wrist movement that I felt was being inhibited with that hold...Some great fiddlers use it though... we're all different..
Steve

fishinmusician Says:
Friday, March 13, 2009 @7:59:30 PM
Every now and then, I have the good fortune to jam with Chirps Smith (Midwestern Fiddler). Only I'm on banjo, as my fiddling abilities are minimal. As you know, Chirps is an awesome fiddler, and he is now and has always been a TUF guy.

Because of this influence, I just started experimenting with TUF. Lo and behold, my bow bouncing problems seem to have vanished! Control of the bow, even though it now seems "longer," seems at least the same and maybe better. I'm going to try to stick with for a while and see where it takes me.

By the way, I took your suggestion re: strings. Just put on a set of Thomastik Precision Lights, and they're super. I've been using Chromcores with an Olive E for the last year, and have been very happy with them. But the Precisions are more responsive, with good tone although slightly less volume.

Dave

Rene Says:
Saturday, March 14, 2009 @6:10:10 AM
I switched and love the TUF hold, it works better for me. I feel like I've got a looser wrist. I do have a little slippage problem sometimes.

brya31 Says:
Saturday, March 14, 2009 @3:36:50 PM
I keep itchin to try TUF,but when I do, my bow arm somehow decides that the little change makes me bow crooked. Ok...my brain hates change.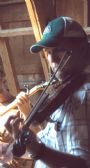 David M. Says:
Thursday, March 19, 2009 @7:21:33 AM
Good thoughts on the balance thing. I used TUF for years and just last year went to the stick hold. I like it better (for me) than the TUF and it allows me to go a tad up the stick. I usually an right in front of the windings these days.

Tennessee Tom Says:
Wednesday, April 1, 2009 @9:50:56 AM
Thanks for this info, Michael. Regarding 1.A., are you suggesting that the weight of a twist tie has an effect on your bowing???

Cheers,
Tom

fiddlepogo Says:
Wednesday, April 1, 2009 @11:46:59 PM
Yup! Try it and you'll find out... of course, you may find you're not as picky
as I am, but I can feel a difference. One factor is that I've learned to relax and let the weight of the bow do the work, using a minimum of effort, and with that minimum of effort, even slight changes in weight, balance, and bowhair tension make a big difference.
If you are muscling the bow around more you may be less aware of a difference. Of course, you can also use heavier wire if you wish, too.
You must sign into your myHangout account before you can post comments.