Posted by azfiddle on Sunday, January 11, 2009
Sometimes it just feels great to play for a dance- the music takes on a life of its own. I feel like a conduit for the music, instead of a technician, and there is a synergy where everyone in the band plays off of each other. I'm really lucky to be in a band with some great dance musicians.
Last night was one of those nights for me. It helped a lot that that the back/shoulder arm problems that sometimes make it impossible to sustain playing through a single set, ( let alone a whole night of contras!) have subsided for the moment. When it doesn't hurt to play, it's a lot more fun.
It wasn't a perfect night on the dance floor- there were a lot of beginners, and the caller (also a band member) had to really change her program and work hard to get everyone through some of the dances. As a band, we have had nights when we were even more in synch. But I'll take a dance as good as last night anytime.
---
2 comments on "at the dance last night...."

Arkansas Traveler Says:
Sunday, January 11, 2009 @4:58:39 PM
Sound's like everyone had a great time at the dance last night.
'appy fiddlin'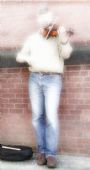 Fidla Says:
Monday, January 12, 2009 @5:39:48 AM
I love playing for dancers. It's my absolute favorite thing to do.
You must sign into your myHangout account before you can post comments.