My name is Elise M. Desser. I moved to Tennesse 2 yrs ago. I was born in Gary,Indiana and moved to Brooklyn, New York when my father who was a native New Yorker passed away. I lived and breathed the life in Manhatten places like the Blue Note( jazz) Sun Mountain Cafe ( contempary) Ritz and Lamoures which use to have five dollar fridays where you could see all kinds of bands play until wee hours of the morning.
I moved from there to north valley California where I developed a love for country and bluegrass. I guess music has always been a big part of my life my Mom had a collection of 78's Andrew Sisters, Benny Goodmen and the like Dad like WLS out of Chicago. Where the love of all kinds of strange music came from I dont know.
I cant play a lick I would love to be able to do so. I can truly admire those who have found with in them selves the ability to do what I can only admire from afar.
---

SMDTMTL Says:
Thursday, January 8, 2009 @2:48:06 PM
I assume when you say you can't play a lick, that means you have tried? I know I've met people who wanted to play, and never seemed to be able to acquire much facility at it, but I don't know if I've ever really met someone who couldn't play a lick... You must like music a lot if you're willing to join a fiddler group without at least thinking of giving it a try... Have you ever tried fiddle?

Steve

Rene Says:
Thursday, January 8, 2009 @4:07:23 PM
What are you waiting for...it's never too late to start


Ozarkian DL Says:
Thursday, January 8, 2009 @5:29:32 PM
Y shore...givit a try. Nothun ventured...nuthun gained. To try & fail is better'n not tryin atoll.

FiddlerFaddler Says:
Thursday, January 8, 2009 @5:42:18 PM
Read my blog archive for inspiration, especially the blog titled How to Become a Senior Prodigy.

Become stranger in your musical tastes: embrace old-time, traditional fiddling. It's a great way to be counter-cultural. It's more like being retro-cultural.

pick1 Says:
Thursday, January 8, 2009 @6:03:48 PM
Something that holds true with every person who plays music is the fact that it began by "always wanting to."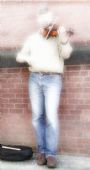 Fidla Says:
Friday, January 9, 2009 @5:08:35 AM
All you need is passion...the rest will follow

brya31 Says:
Friday, January 9, 2009 @8:54:21 AM
I couldnt play a lick before I started either, but I am having the time of my life now.
You must sign into your myHangout account before you can post comments.