Posted by fiddlepogo on Wednesday, December 31, 2008
Went up to my sister's for Christmas, and took the fiddle again- not quite as big a hit with the little ones as at Thankgiving, but still, it went well and my sister especially appreciated it.
Played at a bluegrass jam Saturday. While for various reasons I had a hard time (wasn't feeling well for one) I did have moments where the improv was flowing, and that gives me hope.
The Swedish Santa Lucia gig is past, so is Christmas. One of the members of the Scottish Society called this morning to confirm for the Robert Burn's dinner in February. So I'll be brushing up on my Scottish chunes and songs until then.
I went to a music party Sunday night hosted by the nyckeharpa player. Only she didn't bring the nyckelharpa. She played guitar, and I played... electric guitar! But then another guitarist asked to see it, and wouldn't give it back- so I got out the fiddle, and played blues- probably the best imitation of blues fiddle I've done yet. It was the first time the nyckelharpa player had heard my electric guitar playing or guitar rig, and she was surprised how well I could tame it to make it blend with a fiddle and an acoustic guitar- I faced the speaker against the wall, and used a tube mic preamp (cheap Behringer) to give it a lot of gain to fatten up the tone at low volume. I also did some country licks with the electric guitar, in addition to blues.
I added another teensy twist-tie to my K. Holtz fiberglass bow, and EUREKA I think I've got the balance on it well nigh perfect!
Another big music party coming up New Year's Day- should be fun!
---
3 comments on "Various Mostly Fiddle Schtuff..."

Rene Says:
Wednesday, December 31, 2008 @10:33:31 AM
Remind me again about the twisty tie, I've got a little bit of bounce in my bow and I don't have it real tight.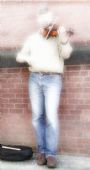 Fidla Says:
Thursday, January 1, 2009 @8:01:36 AM
Pogo I would love to hear what you think (privately) about my bow some day.

Humbled by this instrument Says:
Monday, January 5, 2009 @9:17:12 PM
What songs were played at the bluegrass jam? At ours, old timey stuff is always mixed in, yet it's played in a bluegrass format, each instrument taking a lead generally, songs like "Old Joe Clark," "Cherokee Shuffle," "Soldier's Joy," and "Cripple Creek," as well as the bluegrass standards "Salt Creek," "Gold Rush," and "Jerusalem Ridge," etc. Michael, have you been to the Nevada City jam? I hear that one is old time. The one in Sutter Creek is absolutely old time with a bit of Irish thrown in if a certain fiddler shows up, but Sutter Creek's kind of far from you, methinks. Oh, something else, since you like the blues, I was wondering if you wouldn't enjoy the slides and "bends" and slurs which bluegrass allows during your break? I love to take breaks on "Rolling in My Sweet Baby's Arms," for instance, maybe because of my rock guitar background, and I know you like the electric blues guitar.
Humbled
You must sign into your myHangout account before you can post comments.