Posted by bj on Sunday, December 7, 2008
I dunno, maybe it's because the sinus headache from hell is back, or cabin fever and the winter blahs, and my absolute hatred of walking out the door and seeing my garden all withered and dead. But geez, you think I'd be able to fiddle my way out of it!
But nope, that isn't working. Instead I've had to slow everything down to a crawl just to get through it without major bloopers. I feel like I'm only 6 months in instead of over 14! I have all thumbs on my left hand and my right has lost its mojo. I can do a nash, or a ville, but I can't seem to get through the whole dang shuffle. I was even squeaking on the E string -- and was ready to just give up in despair until I picked up a different fiddle and the squeak went away.
Well, at least one thing I can chalk up to equipment failure instead of me, the Stockdale needs (another) new E. That one seems to blow through them, for some reason. Could be the problem with the nut and the E being so close to the fingerboard edge, that one needs a trip back to Steve for sure.
Just one sunny day above freezing and with no sinus headache. That's all I need. Then maybe things will get back to normal . . .
---
13 comments on "The Blah Plateau"

Rene Says:
Monday, December 8, 2008 @4:42:07 AM
Above the clouds the sun is still shining.
Cold weather and sinus headache, bad depressing combination. This too shall pass.
I'm with you girl, some days (last week...) I feel like I"ll never get it, then some days I pick up the fiddle and it and my hands all cooperate. I'm impressed that your still trying to play with a sinus headache.....I can't take any sound when I have one.
Keep smiling. You can do it!!!

bj Says:
Monday, December 8, 2008 @6:23:32 AM
Sun is peeking out today. Hopefully it's not too cold for a walk to clear out the cobwebs. An herbal steam a la Kiva Rose did help yesterday. And I woke up clearer this morning. Every time I think I have this thing beat it comes back. That's what's depressing. Today is better though.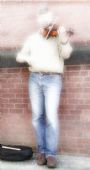 Fidla Says:
Monday, December 8, 2008 @6:34:16 AM
How many years have you been playing? only 14 months? it's time for a plateau if you haven't had one yet. It means you've learned everything you need to get to this level and are now spinning your wheels. It's time to do something to break you out of the rut you're in. I can recommend a couple things:

1. start a little jam session with your friends, open to the public, have fun with it. learn new material and grow your performance experience
2. start an informal jam band, get some local open mic gigs - having a goal often forces us to grow more quickly
3. take a few lessons with a master fiddler - you live 90 minutes from Philly, right? there are a couple awesome fiddlers I know of in Philly that offer master sessions
4. give yourself a goal of learning a new style of fiddling
5. challenge yourself to improve your grip, posture or left hand (something you wish you had time to work on before)

Bottom line is do something different to pop you out of your rut

bj Says:
Monday, December 8, 2008 @7:00:30 AM
Adam, I get the idea but your suggestions are hilarious. I've been ranting, both on this blog and on the forum, over the lack of Oldtime players in this area. There are so few that your 1st and 2nd suggestions are impossible. Re #3, I'm self employed and work 50-60 hour weeks, and a day in Philly is not in the cards, especially during my busy season. In fact, I doubt I could squeeze out time for a lesson with someone local, and I have a perfectly good teacher, only neither of us have the time or energy right now to get together. He's also crazy busy playing out for holiday parties while recovering from knee surgery. Though a lesson with Steve would be perfect. Maybe in January when he and I both have a week or so of breathing space.

Re a new style of fiddling. I know you mean well, and I know you think nothing of jumping from style to style, but for me I think it's absolutely ridiculous to start another when I've not even come close to mastering all the complexities of the ONLY style I wish to play. And probably never will.

Re the grip, posture, etc. That's all the stuff that's FINALLY come together. Finally. Could it use some more work? Eventually, but I'd much rather relax into playing for awhile before getting back into all that.

But your point is taken. I do need to find something different to work on.

I am trying to put together a workshop with Ken Kolodner, who has taught at Swannanoa, and if it comes together, which it looks like it will, it will be held in April. I'm also working with Dee (fiddlecat) to put together a regional FHO campout sometime in early summer. So I do have some stuff I'm working on.

Ozarkian DL Says:
Monday, December 8, 2008 @1:47:47 PM
Couple days of couped up weather & I get cabin feaver. Just break out tha ole fiddle & start sawin.
OOOOO.....Rene....that beautiful thing do'nt belong on no turkey plate....if anything....put it in a dessert bowl.

bj Says:
Monday, December 8, 2008 @2:02:35 PM
Yeah, ODL, I get nuts when I'm cooped. The sun peeked out this morning for all of about ten minutes, and when it went back under the clouds the temperature plunged to a high of 22F. Not exactly a good time to go out and get some fresh air! I went out and swept the snow flurry off the step (a 2 minute job) and was rushing back into the warm!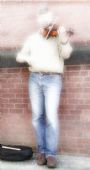 Fidla Says:
Tuesday, December 9, 2008 @5:43:40 AM
Cool. It sounds like you've got a plan anyway :)

Midwest_Fiddler Says:
Tuesday, December 9, 2008 @9:10:25 AM
Here in the beautiful Kettle Moraine State Forest near Whitewater, WI, we are in the midst of a winter storm. It has been snowing at my house since before dawn. We already had about 6 inches on the ground before this storm started. I had to go out this morning and give horses hay. Everything is covered in snow and it's gorgeous. I plan on continuing to battle my cold, play some fiddle and banjo and maybe later go out in the woods to take a look at the new snow. No reason to stay cooped up if one has gear to keep warm outside. It also helps that I am not working. :-)
I hope you get past the blahs soon!
Chirps

bj Says:
Tuesday, December 9, 2008 @9:19:29 AM
SNOW would actually be a welcome relief! It would cover the dead stuff and make everything beautiful! Build a snowman for me, k?

I have to admit I've become a wimp where cold weather is concerned, but after years of working outside right through the winter, I appreciate not having to suffer in it anymore. Truthfully, it only bothers me when the mercury plunges below freezing, which is when I wimp out totally.

Oh cool. I just looked out the window and the sun is peeking through the clouds and one of the cheekier squirrels is sitting on the outside windowsill peeking back in at me. I think it's Sherlock, the nosybody.

Rene Says:
Tuesday, December 9, 2008 @11:30:40 AM
Your tougher then me...below 70 and I've got the shakes. I'm with youn's on the snow however, love sledding, and moonlight walks in a snow. My motto is "If it's gotta be cold give me snow"


ChickenMan Says:
Tuesday, December 9, 2008 @2:14:50 PM
Snow does not make it better. Add ice (before the snow) and it only gets more depressing. Spend some time with a recording of ONE tune you want to learn and just listen to it repeatedly. When you really get sick of it, give it a rest and see if it lingers in your brain. Then listen again and try playing along. Slow it down with the slowdowner of choice.

And get that nut fixed. Geez it is an easy fix and will be really inexpensive. Take in a fiddle that you like the spacing on and see it you can get one made to match it.

bj Says:
Tuesday, December 9, 2008 @2:21:42 PM
Yeah, I'll get that nut fixed! It causes other issues as well so it's time. But it's not like I don't have three other fiddles to play. :-)

I've been doing the listening thing to Elzik's Farewell, to the point where my cat woke me up in the middle of a dream last night and I realized I had been humming it in the dang dream! That and Kitchen Girl are my two targets right now. I've been wearing out those mp3s.

ChickenMan Says:
Wednesday, December 10, 2008 @8:09:30 AM
Kitchen Girl is a great tune. Yeah, I know you got more than one axe to play - to use the guitar player vernacular. :-D
You must sign into your myHangout account before you can post comments.