Posted by Daner on Friday, December 5, 2008
Hey I must say that all of you have been a great help while I'm on a dusty trail to success with this fiddle of mine...There are days that I play till I can hardly move my wrist...Is hard to put It down...Yaa It s In my blood and I'm liken It...I can hear that I'm getting a bit better and sometimes I think I have someone upstairs giving me a little push as well.
I know sometimes or actually a lot of times I hit a string with the bow that I'm not supposed to hit...But I get Into the music and jam along...You know what I mean...Hey all In ALL I ,m have fun
Daner
---
3 comments on "You Guys/Gals are great"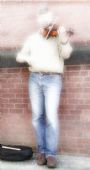 Fidla Says:
Friday, December 5, 2008 @3:12:39 PM
ah shucks. any time,any time

bj Says:
Friday, December 5, 2008 @3:19:10 PM
Hey, friend, I'm glad to hear that three letter word-- F U N - instead of the usual four letter words this infernal wonderful instrument can inspire instead!

Keep it going!

Rene Says:
Friday, December 5, 2008 @4:03:12 PM
A good fiddle, a good horse, aah, life must be treating you good. Cheers.
You must sign into your myHangout account before you can post comments.