My friend had been pestering me to have someone look at my fiddle. It is a beginner model, but a well-made model, and a decade ago I was offered $600 for it by a music shop owner, so it's high-end for a beginner model. My friend is one of those people who can't stop "fiddling with his fiddle," adjusting the bridge and sound post and having people work on the nut and tuners. He was convinced I could get a better sound out of it.
We were heading to Asheville, NC area for Thanksgiving, and I was not going to miss this opportunity to jam in the The Mountains. My bow is a piece of junk and I hoped to find a good replacement too, so just before we left, and with much unnecessary anxiety, I stopped at Mr. Music in Fort Wayne, and talked to their repair guy about my fiddle. We talked about all the things that could be done to it, and after twenty minutes, I persudaded him that, although it was a Saturday, and although he had to mind the shop, he would try to cut and fit a new bridge in the next two hours.
I took my daughter to the library, and when I came back, it was like a brand new instruments. It was twice as loud, much more balanced, and made every flaw in my playing far more obvious than it had ever been.
I had not known, being a novice, that the feet of the bridge have to be shaped to the contour of the front of the fiddle. Does it make a difference? Heck yeah! My bridge had never been fitted, and because of the curve of the wood, the edges of the bridge feet didn't actually touch the front of the fiddle. This was why the bridge needed to be pulled back into position every time I cross-tuned.
I brought it home and tried it out, and my son let me know in no uncertain terms that it was now TOO LOUD. I was quite pleased.
---

bj Says:
Monday, December 1, 2008 @2:37:11 PM
LOL! That reminds me of Jane's joke about OldTime Fiddlers and their fiddles--

"Is it TOO LOUD ENOUGH now?"

Thibodeaux Says:
Tuesday, December 2, 2008 @7:01:12 AM
I had a VERY similar experience with my student fiddle this past summer, after having played on it regularly for over a year. What a difference! I wish I had gotten the setup adjusted so much sooner!

Glad to hear that, like me, you'll get the chance to have an improved learning experience.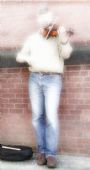 Fidla Says:
Tuesday, December 2, 2008 @9:46:12 AM
Would that be Carey Cox? He uses my bow hair. If you want to try a really special bow hair, on your next trip to Mr Music, let carey know.

Phoeniceus Says:
Tuesday, December 2, 2008 @10:19:56 AM
Why, yes, it was. I remember that when I visit him next.
You must sign into your myHangout account before you can post comments.