Posted by FiddleFish on Saturday, November 29, 2008
Last night, Whole Hog Musical Revue* played our first dance. It was a multi-family gathering with adults and youngsters at the local YMCA. They were not an overly critical audience so were able to loosen up and really enjoy it. But we still wanted to dish up our best.

When we were asked if we would play for this dance we were absolutely tickled. The organizers had a couple of callers and they wanted to do some called mixer dances, and then have us fill in the rest of the evening from our repertoire. It was a really fun mix of tunes and rhythyms, but it was a lot more work than we imagined. We played a good deal faster and harder than we expected we would. We learned that we really need a bass player and that we need to be ready to play faster without getting too loose.

We kicked off the dance with Mr. Fisher's Old German Waltz, followed by an interesting dance set to a medley of Butterfly Waltz and Little Brown Jug. We played reels, rags, polkas, schottisches, and waltzes. The diverse mix of music included tunes and songs like Hava Nagila, Salty Dog Rag, Ace of Diamonds, Stegenvals, Pindsvine Reinlender, Norwegian Polka, and Teton Mountain Stomp. It was a great experience and it firmed up our notion that we will continue to orient our repertoire and our playing style to playing for dances.

*Whole Hog Musical Revue is a loose aggregation of musicians who got together a couple of years ago to organize a weekly jam. None of us had any idea that we'd be doing this kind of thing back when we started.
---
7 comments on "An All-Volunteer Dance Band Makes its Debut."

bj Says:
Saturday, November 29, 2008 @3:04:16 PM
Sounds like FUN!

Hava Nagila on the fiddle, huh? I think I might have to give that a try! Though I doubt I'll have it up to speed for awhile. If I remember correctly from the last Jewish Wedding I attended, that one gets pretty wild at the end.

If you haven't yet been introduced to the Jehile Kirkhuff repertoire, you might want to explore it. He was an Eastern PA oldtime fiddler. He and his wife (both blind) played many, many Dances, and his tunelist is incredible. You might be able to mine it for more material, and I think you'll find that a lot of the waltzes and schottisches he has on there will work for you. I believe that many of the tunes on his list are of Germanic and Irish origin, so there are lots of Polkas, Waltzes, Jigs, Reels and even some Cotillions and Stomps! You're going to have to copy paste this to get it to work:

http://homepage.mac.com/WebObjects/FileSharing.woa/wa/default?user=edwardberbaum&fpath=Jehile%20Fiddle%20Tunes%20A%20to%20C&templatefn=FileSharing7.html

PM me if you need me to send the link, long ones sometimes don't translate through well. Especially check out Duck for the Oyster, which has him playing AND calling, if I remember right. Enjoy!



FiddleFish Says:
Saturday, November 29, 2008 @5:03:55 PM
What a goldmine! Thanks for sharing the Jehile treasure trove. Have you met Ed and Geraldine? Their generosity embodies the whole spirit of what this is all about for me. I see 'bout every tune I know on the list, the major exceptions being some of the Scandinavian tunes collected from the upper Midwest.

If anyone's looking for me tell 'em where I am...

bj Says:
Saturday, November 29, 2008 @5:22:03 PM
LOL! I thought you'd like that! Make sure to listen to his stories too! There's a biography written about Jehile that you can purchase from the author. Ed and Geraldine can tell you how to find him. I've emailed back and forth with Ed, and will probably meet him eventually. They're about 80 miles north of me.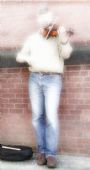 Fidla Says:
Tuesday, December 2, 2008 @10:13:18 AM
sounds like a lot of fun

For tune midi files, sheet music and abc files (for fiddle tabbers), I recommend JC's ABC Tunefinder: http://trillian.mit.edu/~jc/cgi/abc/tunefind

Although primarily celtic in nature, it searches every posted abc file on the internet, compiles it in a variety of formats, and presents it for easy downloading, and the best thing is it's FREE!

FiddleFish Says:
Tuesday, December 2, 2008 @1:47:21 PM
ABC is a great tool and JC's index is just mahvelous. Lots of Scandi-tunes available there as well.

I am functionally musically illiterate, but I enjoy listening my way through abc tune collections and finding melodies that I like but that I've never actually heard anyone play before. I then take these and then try to add some stylistic elements (harmonies, syncopation, shuffles, etc) to them and turn them into something of my own. Then I can generate a score and distribute it to my jam group. No wonder I have a few too many tunes on my playlist.

brynmawr Says:
Friday, January 2, 2009 @6:36:01 AM
Sounds like a great time! I hope to do something like you are doing at some point.

Happy New Year to you.

Brinn

BowWeevil Says:
Sunday, March 22, 2009 @7:00:37 PM
Yay for you, the dance sounds like a blast. I am going to dig around for a version of 1814 for you. For a while I had been playing with some Nykleharpa players and they played the tune.
Pam
See you at Bluff Co!
You must sign into your myHangout account before you can post comments.