Posted by Ivar
[download]
- Play count: 461
Size: 12,196kb, uploaded 10/3/2007 10:09:39 PM
Genre: Unknown/None Chosen / Playing Style: Unknown/None Chosen
Recorded tonight. I've been playing just a hair over a year now, the last six months seriously, and I have to say I like the progress. Cheers, Ivar
---
3 comments on "Fire In the Mountain (AEae)"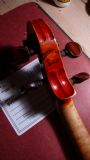 Ivar Says:
Wednesday, October 3, 2007 @10:15:03 PM
Forgot to add - the key to playing this well is heavy use of drones. You will notice the improvement in intonation when I focus on getting a good drone. -

FiddlerFaddler Says:
Thursday, October 4, 2007 @9:42:07 AM
You are doing great for a novice -- keep up the good work! You are going to be a great fiddler.

christym Says:
Friday, May 26, 2017 @6:55:15 AM
Nice to hear someone play Salyer's "Fire in the Mountain."
You must sign into your myHangout account before you can post comments.