Posted by dsreiner
[download]
- Play count: 1438
Size: 9,922kb, uploaded 10/21/2008 7:52:47 PM
Genre: Unknown/None Chosen / Playing Style: Unknown/None Chosen
Recorded live at Buell's Orchard in Eastford, CT, 10-13-08. I'm on fiddle, Paul Harty is on guitar, and my son Eric Eid Reiner is on piano. We didn't rehearse at all, just had fun playing tunes together, with arrangements on the fly!
---
9 comments on "Angeline the Baker - Old French - Fisher's HP"

FiddlerFaddler Says:
Thursday, October 23, 2008 @9:49:13 AM
Dave, that was great playing. Obviously the three of you are very good musicians and quite familiar with the tunes if you can play them together that well without running through them first. Eric is a mighty fine pianist with a great musical sense, judging by his bass-line progressions, cadences and expressiveness - a real chip off the old block! Thanks for posting these tunes.

dsreiner Says:
Thursday, October 23, 2008 @12:17:01 PM
Thanks very much, Michael! I do have a great time playing with Eric.

playmorebluegrass Says:
Sunday, October 26, 2008 @11:25:36 AM
very cool keyboard playing!!!!

Tom Berghan Says:
Sunday, September 13, 2009 @4:54:41 PM
REALLY FINE!
I am knocked out by your son's piano playing. He has great drive, energy, rhythm. "He got game!"
You are all great! . . . but the star of this track is Eric!

dsreiner Says:
Sunday, September 13, 2009 @5:52:17 PM
Thanks, Tom! You can read about Eric's latest CD, and hear more of his playing at www.ericeid-reiner.com

Dave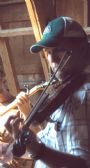 David M. Says:
Monday, September 14, 2009 @9:04:13 AM
My son (age 14) plays piano, so I want him to hear this. He'll love it. I love Old French. One of my favorites. Great playing all.

Fiddlepiper Says:
Thursday, February 25, 2010 @11:23:01 PM
I love the piano and harmonica with your great fiddlin! Got some drive. I like your smooth transition to next tune.

richdissmore Says:
Wednesday, July 6, 2011 @2:58:55 PM
i got your two CDs from fiddle hell now i can,t wate tell your next two CDs from fiddle hell i hope you got the next comeing up

danialbergnaum Says:
Tuesday, April 28, 2020 @9:52:47 AM
that's awesome! I like that melody. I suggest that you should add some 2 player games music in the next song

You must sign into your myHangout account before you can post comments.