Posted by fiddlerdi, written by Fiddlin Arthur Smith
[download]
- Play count: 1254
Size: 1,934kb, uploaded 1/14/2008 6:20:16 PM
Genre: Old-Time / Playing Style: Unknown/None Chosen
Here's a good ol tune by Arthur Smith I believe. I did steal a couple of licks from Kenny Baker. I can't help it, he's one of my fiddlin' heroes. It's a snapply little tune. Hope you enjoy it.
---
6 comments on "Sugar Tree Stomp"

OTJunky Says:
Tuesday, January 15, 2008 @9:24:07 AM
This is very nicely done - thanks for posting it.
You do sound a bit more like Kenny Baker than Arthur Smith.
But I think that's just because you're a better fiddler than Arthur Smith.
He had some intonation problems - and you don't. :-)
--OTJ

Dick Hauser Says:
Tuesday, January 15, 2008 @9:42:27 AM
The tune sounds great. Played at just the right speed. I guess all those lessons paid off ?

fiddlebob Says:
Tuesday, January 15, 2008 @11:31:09 AM
Great fiddlin', and a great tune.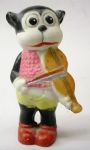 PInky Says:
Tuesday, April 1, 2008 @12:54:22 PM
I freakin' love this tune! It's on my list to learn - been there a while. Nice job as always Diane!

Tennessee Tom Says:
Friday, August 27, 2010 @7:37:34 PM
Wow, that is some fine fiddlin. Great tone!

harryt8 Says:
Wednesday, May 25, 2016 @9:09:30 PM
Really great playing Dianne. Well done.
You must sign into your myHangout account before you can post comments.