Posted by Ole Rossel
[download]
- Play count: 748
Size: 2,125kb, uploaded 6/2/2010 2:04:52 PM
Genre: Old-Time / Playing Style: Unknown/None Chosen
Piney Ridge (W.H.Stepp) recorded on my ancient Revox 4-track machine. Instruments are: Fiddle, tuned (4rd to 1st) D D A D (4th string one octave below 3rd, also used for Bonaparte's Retreat) - and a 4 string Bouzuki bought on the Greek island of Samos a couple of years ago (well, not quite Oldtimey, but it almost sounds like a Mountain Dulcimer). Tunings may not be to 440 standard, as I'm not particular when doing sound-on-sound recordings for fun - as long as the instruments are in tune between them
---

bj Says:
Thursday, June 3, 2010 @6:30:15 AM
Sounds great, Ole! Reminds me I have to learn a bunch more tunes in this very mellow and sweet tuning. I think this one will go on the I have to learn it list!

fiddlepogo Says:
Thursday, June 3, 2010 @12:05:22 PM
Yeah, good stuff- and if you hadn't said it was a bouzouki, I really don't think anyone would have guessed. I had a dulcimer once with a body maybe an inch deeper than normal,
and that sounds just like it!

mudbug Says:
Thursday, June 3, 2010 @1:00:59 PM
I LOVED it! Cool tuning. I don't know if there are mountains in Denmark, but you've deffinitely soaked up "the mountains".

ironworker Says:
Monday, June 7, 2010 @5:50:32 PM
Fine, Ole !!!
your playing is great- don't ever worry about if you sound "old time"
or not.
believe me, you do.

Russell Sampson Says:
Sunday, June 13, 2010 @10:00:24 AM
great sound-I wuz goin ta say whut arnwerker sed but heeze here first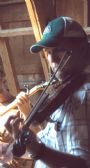 David M. Says:
Saturday, July 3, 2010 @7:52:01 AM
Very nice! Reminds me a LOT of Sullivan's Hollow, the Mississippi tune.
You must sign into your myHangout account before you can post comments.