Posted by David M., written by Stephen Foster
[download]
- Play count: 961
Size: 3,497kb, uploaded 8/12/2009 4:21:02 PM
Genre: Old-Time / Playing Style: Unknown/None Chosen
A Stephen Foster song I played at a local gig in winter 2008. One of my favorite songs.
---
5 comments on "Hard Times Come Again No More"

fishinmusician Says:
Thursday, August 13, 2009 @7:12:20 AM
Excellent singing and pickin.' One of my favorites, too.

Dave

OTJunky Says:
Sunday, August 16, 2009 @3:37:37 PM
I Luuuuv this song.

Great job singing it - and picking it.

--OTJ

slimman53 Says:
Friday, September 11, 2009 @6:11:20 AM
great tune. could you share the key and chords?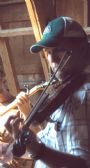 David M. Says:
Friday, September 11, 2009 @11:28:08 AM
Thanks. I put the chords up on my blog.

jamessw Says:
Wednesday, April 15, 2020 @5:45:20 AM
You are so talented! I will use this dissertation service uk to share info about you. I think it's really good.
You must sign into your myHangout account before you can post comments.