Written/Posted by David M.
- Play count: 593
Size: 2,259kb, uploaded 8/12/2009 4:19:03 PM
Genre: Old-Time / Playing Style: Unknown/None Chosen
2 tunes I made up and played on mandolin. First tune is Poke Salat after the wild edible poisonous plant that runs throughout the South. 2nd tune is unnamed. Played live at a gig at the Muscatine Art Center, winter 2008.
---
3 comments on "Poke Salat / Unnamed Tune (Original tunes)"

jefferylong Says:
Wednesday, August 12, 2009 @10:12:35 PM
Like the tune. Especially like the title.

jefferylong Says:
Monday, October 26, 2009 @8:09:55 PM
Hey David. I really like this tune - especially the title. Mind if I try and add a little guitar and fiddle behind you? Think it would sound neat. Neat tune. Is this original?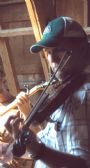 David M. Says:
Tuesday, October 27, 2009 @6:24:55 AM
Jeff: That'd be fine. One of these days when I get more time on my hands, I'm going to get a mic and software and do some recording for backing. Thanks for the comment.

DM
You must sign into your myHangout account before you can post comments.