Posted by dsreiner
[download]
- Play count: 2228
Size: 10,830kb, uploaded 6/30/2009 8:11:12 PM
Genre: Unknown/None Chosen / Playing Style: Unknown/None Chosen
A very quick demo of Georgia Shuffle bowing, with downbow on the offbeat and upbow everywhere else. u u D u u u D u is one measure of up and down bows. Here I play saw stroke, Nashville Shuffle, and Georgia Shuffle - first on a scale (a good way to practice!) and then on a simple version of Sally Goodin. This pattern and others are explained in my book Oldtime Fiddling Across America. Enjoy!
---
8 comments on "Georgia Shuffle examples"

Cyndy Says:
Wednesday, July 1, 2009 @5:46:58 AM
This is hugely helpful and comes at just the right time for me because it's exactly what I'm starting to work on . . . Thank you very much.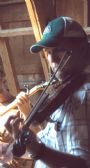 David M. Says:
Wednesday, July 1, 2009 @6:31:00 AM
Great example of this bowing pattern. Helps to de-mystify that sound.

Thanks!

Grayhairs Says:
Wednesday, July 1, 2009 @4:58:26 PM
Thanks for posting this. I hear folks talk about some of these patterns all the time, and never have a clue. Now I'm at least a little more in the loop. Appreciate it! And good fiddlin' by the way!

Tennessee Tom Says:
Thursday, July 2, 2009 @5:16:17 AM
Very nice, Dave. Thanks for posting this.

Cheers,
Tom


leather Britches Says:
Friday, May 14, 2010 @9:04:10 PM
These are just fantastic , to be able to hear the transition form an exercise to performance use
is encouraging like David said " helps to de-mystify that sound "
Learner Says:
Tuesday, July 6, 2010 @7:14:30 PM
David: thank you so much. These are very helpful. For a novice like myself, if you ever get around to producing a video of these, it would be even better!

PS: I will have to watch these again when I get home to my home computer. The volume was weak on my laptop, so I really had to get close to hear your commentary.

Thanks again

Bart Says:
Wednesday, November 24, 2010 @4:58:56 PM
What a treat to listen to your intonation while you're teaching the shuffles! :-)
You must sign into your myHangout account before you can post comments.