Posted by David M.
[download]
- Play count: 290
Size: 3,574kb, uploaded 6/24/2009 6:53:52 AM
Genre: Unknown/None Chosen / Playing Style: Unknown/None Chosen
SONG. No fiddle. I got this song from Norman Blake, maybe on one of his Blake/Rice albums. Sad, trad Civil War song. Lots of folks have done it, including Dylan, Garcia, Julie Miller, etc. Me on my D35 and singing. Rough recording with a poor computer mic.
---
4 comments on "Blue Eyed Boston Boy (Two Soldiers)"

farmerjones Says:
Wednesday, June 24, 2009 @8:01:10 AM
This stands as a gleaming testament that all the expensive equipment that one can muster, or the lack of it, can not do what God-given talent can. I've got several other recordings of David, and I can tell you this is no accident. Why David couldn't retire on his voice and picking, let alone his fiddle, tells more about the flaws in the system than any protest. All i can say is we're damb lucky.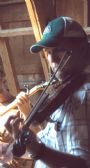 David M. Says:
Wednesday, June 24, 2009 @8:06:05 AM
Durn, you're makin' me blush...

Ozarkian DL Says:
Wednesday, June 24, 2009 @2:00:34 PM
Spoken like a true mid-western fiddler Wooliver....I echo.

mudbug Says:
Wednesday, June 24, 2009 @3:07:12 PM
Davidddddd! Great job, brah! Good song, acoustic work and GREAT voice! And you wanted to give ME a gig?
I wish we lived closer, so we could jam!
You must sign into your myHangout account before you can post comments.