Posted by David M.
[download]
- Play count: 294
Size: 1,567kb, uploaded 1/20/2009 10:59:02 AM
Genre: Unknown/None Chosen / Playing Style: Unknown/None Chosen
A good Gene Goforth tune. AEae tuning. Goosetown Stringband practice session.
---
4 comments on "Gettin Out The Way of the Federals"

Mainefiddlehead Says:
Thursday, February 5, 2009 @10:22:43 AM
This sounds like a variant of Liza Jane

Feodosia Says:
Thursday, February 26, 2009 @6:11:23 AM
yeah, I was going to say the same thing ...listen to the Gilded Bats playing
their Liza Jane ...sounds the same http://profile.myspace.com/index.cfm?fuseaction=user.viewprofile&friendid=70147544
It is nice knowing what gene Goforth called it though, thanks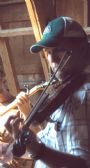 David M. Says:
Thursday, February 26, 2009 @7:18:59 AM
Yep, I agree with the LizaJane likeness, but mainly in the B part. To me the A parts are different. Norbert's (GildedBats) Liza Jane is different than the one I usually play which I got from JP Fraley via John Harrod. Both Liza Janes are real good tunes, though.

oldlongbow Says:
Wednesday, May 27, 2009 @12:53:05 PM
David...

Awesome job on this tune. John Hartford taught me HIS version of the Goforth version in standard tuning. John never did play anything the exact way...but his own and even then he never played it the same way twice!

You all sound great!
James
You must sign into your myHangout account before you can post comments.