Posted by dsreiner
[download]
- Play count: 976
Size: 4,590kb, uploaded 10/21/2008 8:16:28 PM
Genre: Unknown/None Chosen / Playing Style: Unknown/None Chosen
Recorded live at Buell's Orchard in Eastford, CT, 10-13-08. I'm on fiddle, Paul Harty is on guitar and harmonica, and my son Eric Eid Reiner is on piano. This is one of the few tunes I know that's at the right tempo to throw in a triple shuffle, which I can just barely do.
---
5 comments on "Draggin' the Bow"

playmorebluegrass Says:
Tuesday, November 4, 2008 @8:19:00 AM
wow!!!!! I give you 5 ***** and a 1st place ribbon!

royce Says:
Sunday, February 22, 2009 @9:08:23 PM
That was very good fiddling..Your son can tickle the old ivory too.
I love good piano playing as my late mother could wear it out...

Fiddlepiper Says:
Thursday, February 25, 2010 @11:29:30 PM
This is one of my very favorite fiddle tunes, and would like to learn it. Your shuffle is SUPER!

harryt8 Says:
Wednesday, May 22, 2013 @11:02:57 PM
Very, very good. All instruments were well played and it was a joy to listen to.
Must learn this tune.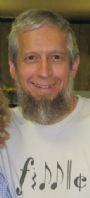 fretsnot Says:
Saturday, March 14, 2015 @6:40:20 AM
Yesterday I "liked" your tune. Today I listened again and wished there was a "love it" button to click on.

You wrote about a triple shuffle. I recently heard a young fellow mixing triple shuffles into part C of Stinky's Blues, which added a nice variation from how the written sheet music goes. youtube.com/watch?v=RENWGuhPh1g
You must sign into your myHangout account before you can post comments.