Posted by M-D
[download]
- Play count: 1034
Size: 2,897kb, uploaded 2/3/2008 4:54:49 PM
Genre: Old-Time / Playing Style: Unknown/None Chosen
Played by Billy Mathews, 2 February 2008, at the Old-Time Fiddle Workshop held at the Inn at Mountain View, Mountain View, Arkansas. Key of C, Italian (standard) tuning.
---
5 comments on "White Rose Waltz"

fiddlebob Says:
Monday, February 4, 2008 @12:08:56 PM
Neat waltz - well done.
fiddlebob

Ozarkian DL Says:
Sunday, August 3, 2008 @8:36:27 PM
That's a good'un I've never heard b4.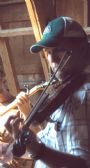 David M. Says:
Tuesday, March 3, 2009 @2:34:47 PM
Good one. JP Fralye does it on his Rose of the Mountain record, but with a more "stops" in it. Good stuff.

M-D Says:
Tuesday, March 3, 2009 @9:00:03 PM
David,

This was from a recording that Billy made to give out at the work-shop, one containing all the tunes. He does play this a bit differently than what is heard here. It's more stripped down here. I wasn't aware that J.P. Fraley played this though. Thanks for the heads-up. :o)

abica Says:
Thursday, April 16, 2009 @11:14:31 AM
Ooh- I've just gotta butcher this one as my first old-timey tune!
You must sign into your myHangout account before you can post comments.