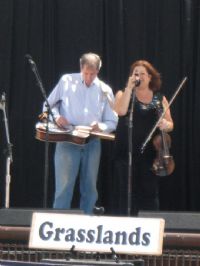 Teaches Lessons: In Person
Levels: Beginner, Intermediate, Advanced
Teacher Since: 1984
Listing Created: 11/16/2011
Listing Updated: 8/21/2018
More About Me
I COME TO YOUR HOUSE!

No reading, ear training only! Bluegrass, old time, Irish, Texas styles and contest fiddling. As 4-time Southern California fiddle champ and 17-year main fiddle judge at the Topanga Banjo/Fiddle contest, I have been teaching over 30 years. I enjoy the young players and also specialize in beginning adults teaching. I teach Timing, Tuning, Technique and Theory. I am an expert at teaching aural playing along with improvisation. I can also teach beginning through intermediate classical lessons.

I worked as a park musician at Knott's Berry Farm and Magic Mountain and toured to Japan with Knott's. I have been a studio musician playing and singing. I have been in several college productions which require fiddle work. I have worked in several local bands, toured the Midwest, opened for groups like Nickel Creek, and played in award winning bands. I am currently with Grasslands, Southern California Bluegrass. Grasslands was the 2013 CBA winning band at the Great 48 Hour Bluegrass Festival and has performed at local venues, corporate events, and bluegrass festivals throughout California and Nevada.

Check out:
Southwest Bluegrass Association: http://www/s-w-b-a.com
Bluegrass Association of Southern California: http://www.socalbluegrass.org/
My Yahoo Group: Bluegrass_in_OC@yahoogroups.com
My Band: www.grasslands-socal.com

Let's Pick!