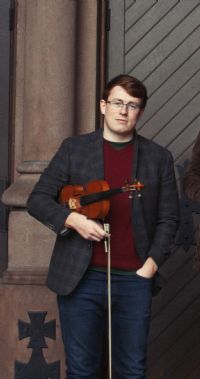 Teaches Lessons: Online, In Person
Levels: Beginner, Intermediate, Advanced
Teacher Since: 2010
Pricing: $60 per hour (initial trial lesson rate also offered)
Listing Created: 3/9/2015
Listing Updated: 2/17/2017
More About Me
Hi!
I am an experienced fiddle player and tutor from England who specializes in Irish, Scottish & Cape Breton fiddling. I am also comfortable in a range of fiddle styles such as English, Bluegrass, Old Time, Scandinavian & Quebecois.

I mainly teach by ear as I find that traditional music is more effectively passed down through aural means, however I can use sheet music at the request of the student.

Teaching Credentials:
I have a Bachelor of Music (Hons) from Newcastle University, UK where, in my final year, I majored in performance scoring a 1st class in my final recital at Sage Gateshead.
I am a current master artist for the prestigious Southern New England Folk and Traditional Arts Apprenticeship Program having been selected by a panel of folk music experts in November 2016. In my role as master artist, I deliver intensive one-on-one workshops to my apprentice out of my personal studio site in South Windsor, CT which is upstairs from my wife's Irish Dance Academy - SRL Irish Dance.

I have led a fiddle music ensemble as part of the music faculty at The Hartt Community Division of the University of Hartford and I have taught group workshops on numerous occasions for the CT Academy of Irish Music in Wethersfield, CT. In August 2016, I was also the fiddle instructor at The Pipers' Gathering in Litchfield, CT. Audio from the tutor's concert can be found here: https://soundcloud.com/dan-foster-7/orlas-green-fields-of-glentown-beautiful-gortreee

- "I had less than a year's experience with violin from over 15 years ago when I started studying with Dan. After my first lesson I was already working on a familiar tune and looking forward to the next lesson. In 9 months I've progressed from barely able to find the note to learning fairly complicated (for me) tunes. He's very open to teaching tunes I know from Scottish Country Dance and other sources. His style of teaching is relaxed and encouraging. His enthusiasm for traditional tunes is infectious. It's a treat to listen to him play and I always look forward to lessons." ~ Karen Pestana, Scottish Dance Expert
- "Dan has proven to be one of the most encouraging influences in my life. He has more confidence in my ability than I do and does an awesome job making sure I don't forget it" ~ M
​- "Dan is a phenomenal teacher." ~ Andrew Decker, co-director of Downright Music, Collinsville, CT
Playing Background:
During the course of my music studies I spent an Erasmus Student Exchange semester abroad at the Irish World Academy where I furthered my studies in Irish fiddle playing under the renowned fiddle player Eileen O'Brien of Tipperary. Some of my fiddle tutors during my 4 year BMus course in Newcastle upon Tyne were as follows:

Catriona MacDonald
Patsy Reid
Shona Mooney
John Carty
Claire Mann
Anna Massie
Jenna Reid
John Dipper
Laura Cortese

Since emigrating to Connecticut in March 2015, I now tour with The Caravan of Thieves, have won fiddle competitions such as the Roxbury Pickin' and Fiddlin' solo Old-Time, and I am in demand in CT and MA as a live musician for Feiseanna (Irish Dance competitions) as well as hosting Irish trad sessions in the CT area. I have spent multiple days teaching fiddle for 4 group classes at the CT Academy for Irish Music in Wethersfield and I also have a growing number of private fiddle student blocks in Collinsville and South Windsor. They are young and old, intermediate and beginner!

You may also find me providing live fiddle and accordion music for the Scoil Rince Luimni Irish Dance Academy when we perform promo shows in the local area as well as on the radio and television. The school is owned by my wife Courtney Jay TCRG and we are also starting to perform out as a fiddle and stepdance duo to make the most of the active house concert scene in these parts.

I have recently started using Skype as a means of teaching as I find both student and tutor not having to travel to lessons highly convenient!

My Skype profile is danfoster.fiddletutor and my email is danfosterCT@gmail.com


Thank you for taking the time to read my bio, I hope I can pass on my knowledge to you soon!

Dan