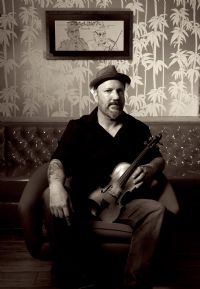 Teaches Lessons: Online, In Person
Levels: Beginner, Intermediate, Advanced
Teacher Since: 2001
Pricing: Call 818-324-6123
Listing Created: 11/17/2011
Listing Updated: 5/11/2020
More About Me
David Bragger is a full-time instructor of old-time fiddle, banjo and guitar. David has taught online and in-person since 2001. His ability to clearly illustrate bowing and rhythmic improvisation is treasured among students across the globe. Having learned from older generation musicians, David strongly values the personal relationship between teacher and student when learning this wonderful traditional art form. Teaching old-time music privately online and at festival/camp workshops is his life's passion.

David directs the UCLA Old-Time String Band Ensemble and is the artistic director of the Santa Barbara Old-Time Fiddlers' Convention now in its 49th year. David is also the founder of the Old-Time Tiki Parlour where he documents old-time musicians from around the country including Kirk Sutphin, Brad Leftwich, The Stuart Brothers, Dan Gellert, Bruce Molsky, Paul Brown, Spencer & Rains and the list goes on! The Tiki Parlour recording label has become a modern old-time institution through its acclaimed releases of CDs, DVDs, books and online videos.

David's writing has been featured in Strings magazine, tons of liner notes and in multiple 78RPM reissue projects with JSP records.
David's fiddling and banjo playing can be heard on various CDs including "Holy Smoke" with Rafe Stefanini, "King's Lament: Old Time Fiddle Duets" with his student Susan Platz, his debut solo album "Big Fancy," "Millport" with Greg Graffin and the soundtrack to the western film "Gone are the Days." 

Needless to say, his passion for old-time is immeasurable and teaching this music is his greatest love.
Comments
Sometimes fiddle tunes play a major role to bring your mind comfort and help you to get out of anxiety and I have experienced many times. This version of fiddle tune is wonderful and heart touching I have listened to some other tunes here 24houranswers and they also uploaded different websites for the training of those students who have recently started to play the fiddle. - Vera Rosales
You must sign into your myHangout account before you can post comments.