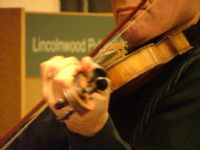 Teaches Lessons: In Person
Levels: Beginner, Intermediate, Advanced
Teacher Since: 1985
Pricing: $30 per hr.
Listing Created: 11/16/2011
Listing Updated: 11/16/2011
More About Me
I play and teach what I know: Old Time fiddle tunes. But a lot of the stuff I teach can be used in other genres of traditional fiddling (including country & bluegrass).

I use tablature to help with remembering tunes. But as soon as you've got a good handle on a tune, we try playing without the visual aid.