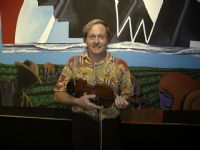 Teaches Lessons: In Person
Levels: Beginner, Intermediate, Advanced
Teacher Since: 2003
Pricing: $40 / hr. + materials
Listing Created: 11/21/2011
Listing Updated: 8/24/2021
More About Me
ABOUT ME:
I have been playing music since I was seven years old and playing the fiddle since 1977. Today, I play and teach many fiddling styles including Old Time, Cajun, Bluegrass, and Texas-style. I have taught fiddle at old-time music festivals and workshops in Louisiana, Texas, Ohio, and North Carolina.

I am originally from southern Ohio and have lived in southern Kentucky, the "Cajun" area of Louisiana, and presently Houston, Texas and have absorbed the fiddling styles of many great fiddlers. Music has always been a major part of my life and I have played music professionally and headed up bands continuously for the past forty years.

In addition to playing the fiddle I also play the Cajun accordion, guitar, mandolin, and bass.

Here are some of my interesting musical highlights. In 1985, I appeared in a made-for-TV movie entitled "Hoedown", shown nationally on PBS, playing the fiddle and calling old time square dances. I have placed several times in fiddle contests in Ohio and Kentucky. I ran and emceed the Ohio State Championship Fiddle contest for six years from 1987 to 1992. I have played the fiddle for several spotlight stories for radio and TV broadcasts, including one about a chicken who could predict the winner of the Kentucky Derby. For ten years during the summer months from 1985 to 1994 I organized, managed, and emceed "Hoedown In The Park" near Cincinnati featuring clogging groups and string bands from all over the Ohio Valley area with an average Saturday night attendance of over 1,000 people. In 1991 on Fountain Square in downtown Cincinnati and in front of TV cameras and a huge crowd, I taught Jerry Springer how to square dance. This is when he was mayor of Cincinnati. In 1992 I was commissioned an honorary "Kentucky Colonel" for my work with entertainment programs for Pearl Harbor survivors and Navy veterans of WWII. In 2005, I toured nationally and recorded with folk music legend Glenn Yarbrough playing five different instruments and doing harmony vocals in the Havenstock River Band. Along with legendary Louisiana Creole musician Goldman Thibodeaux we recorded a "roots music" CD entitled "French Creole House Dance, that was considered for a 2008 Grammy Award in the "folk music category."

I have a band, the "Laughing Lizards String Band" (www.laughinglizardsband.com) playing Appalachian Old Time, Texas and Jazz Swing, and Louisiana Cajun music. Listen to my music at my website. I was a member of "Renaissance Cadienne" (www.renaissancecadienne.org) based out of Lafayette, Louisiana. This group performed early Acadian and Cajun dances from the 1800's to the present day. I play fiddle and Cajun accordion in the band that plays for their performances. The music is early traditional Acadian, French, and Cajun folk tunes. With Renaissance Cadienne I have played extensively in south Louisiana and also toured France and Canada. The group is no longer active but the memories remain.

I am an Old Time Traditional Square Dance and Contra Dance caller. My hobbies include bicycling on a 40-year-old Schwinn LeTour Bicycle and hiking wherever there is a trail. I like to find and restore vintage violins. I am also a licensed Amateur Radio Operator, call sign KY4N.

MY APPROACH TO FIDDLING:
I admire the fiddle styles of many fiddle players from different genres. They all have their unique way of pulling the bow across the strings to make wonderful music. But, there is a common denominator among fiddle players, and that is, how they utilize the bow. The way your fingers play the notes is important too but without a doubt, the bow is the name of the game. By learning certain bowing patterns you will sound like a "fiddler". I look at these bowing patterns as tools in your toolbox and are there to use as you need them. These bowing patterns should become automatic and second nature and from thence forward, your interpretation of musical phrases, passages, and entire tunes will capture the essence of sounding like a "fiddler". I say that if you know good, proper, and tasteful bowing techniques your playing will transform the melody notes into music that captivates your ears and your spirit.

ABOUT FIDDLE LESSONS aka: MUSICAL MILESTONES:
If you would like a one-on-one fiddle session please contact me. I am happy to help you at whatever level player you are. What I do is give LESSONS-AS-YOU-GO which I also call MUSICAL MILESTONES. Each lesson is structured to work towards a reasonable and achievable "musical milestone" to accomplish from the material presented. When you've reached that "musical milestone" after practicing at home, you give me a call and we schedule the next session. The amount of time that goes by between sessions is entirely up to the student and his or her dedication to practice and availability. It may be a week, two weeks, and sometimes longer. We move on when you are ready to move on. In other words, the student progresses at his or her own pace. I understand with other things you may have going on like work, school, and other commitments, your availability may not always allow for a lesson every week. For a beginning fiddle player a MUSICAL MILESTONE would be the ability to play the "A" scale, learning a few double stops, playing a simple tune, or simply getting the screech out of your bowing. For an intermediate fiddle player a MUSICAL MILESTONE would be learning a common tune played in jam sessions or learning a new bowing technique. For an advanced fiddle player a MUSICAL MILESTONE would be playing a more difficult tune in the style of one of the old masters, or improvising a lead break. When you accomplish a MUSICAL MILESTONE, we get together and pave the way for the next one.

Many beginner students ask, "do I have to know how to read music" or, "will I have to learn to read music?" My answer is "NO". In your first sessions, my beginner tunes are written in both simple music notation and tablature for fiddle whichever is easier for you. Beginners learn better when they have something to look at until they feel confident enough to look away from the written page. As you progress, you will learn mostly by "ear" including new tunes, variations on tunes, and stylings.

I also have occasional Old Time jam sessions where musicians of all levels can gather and play together. This is a great learning tool.

If there is something you want to learn such as a fiddle tune, fingering or bowing technique, a fiddling style, or just want to get off the ground as a beginning fiddle player, or if you are already a classically trained string player and want to learn "fiddle" style, tunes, etc., please contact me and I will be most happy to help you. Please email me at stevebingmusic@aol.com.

I live in Houston "Heights", Texas and am centrally located to anyone in the greater Houston area.