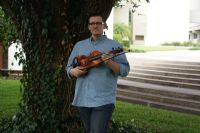 Teaches Lessons: Online, In Person
Levels: Beginner, Intermediate, Advanced
Teacher Since: 2004
Pricing: In-home: $120/Month; Pre-Recorded Videos: $15.99/Song
Listing Created: 6/16/2014
Listing Updated: 12/24/2015
More About Me
Hello fellow fiddlers! I am a fiddle instructor in the central Florida, Tampa Bay area. Please visit my website: www.justinewalden.com. For approximately 10 years, I have been performing on stage, in the studio, and giving lessons.

These opportunities have given me a broad range of professional networking and experience in the old time and bluegrass music industry. Some names I have played with have been Paul Williams & the Victory Trio, Doyle Lawson & Quicksilver, and my own family band, The Crystal Road Band.

I am currently not enrolled in a band but am giving lessons on a full-time basis. My personal teacher was the famous Bobby Hicks, former fiddler for Ricky Skaggs & Kentucky Thunder and Bill Monroe and the Bluegrass Boys. He is 10-time Grammy-winning fiddler.

In addition, I also teach guitar, mandolin, and banjo. If you have any questions, please do not hesitate to contact me at 863-450-0568.

In addition, I offer slow-downed songs via pre-recorded videos. Check out my videos on FiddleHangout and on YouTube (Music Lessons by Justin E. Walden). I look forward to serving you!
Comments
This article is about the transfer of money through PayPal which is nowadays a very important way of sending. Henceforth, just visit essaygeeks.co.uk/write-my-essay/ this site and you will see the important instructions to use. - LaylaBiscoe
I appreciate what you have shared with us. Honestly speaking, I do not have much interest in cars, but I have a friend who is crazy about cars. Therefore, I think I should share it with him, but first I need to find the best yellowstone jacket in US on an urgent basis. I promise I will share it with him soon.
- rosemondy
Searching for a useful jacket? Grab this John Dutton jacket. It has a shirt-style collar, front zip closure, two buttoned chest pockets, two side pockets, and two deep inside pockets.
- rosemondy
On the screens of Yellowstone, super attractive and gifted English actress Kelly Reilly is seen as beth dutton jacket . In the meanwhile, she might be seen dressing to the nines in this excellent jacket. - rosemondy
I have visited your site. I have checked the services and price plan. It seems like one of the best dissertation help but I need to compare it with other services so that I can get the best service at the same or lower price. I promise I will get back to you if I find other services like yours having the same price plan. - rosemondy
You must sign into your myHangout account before you can post comments.