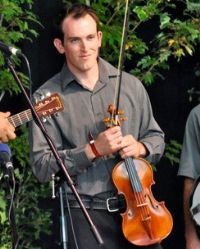 Teaches Lessons: Online
Levels: Beginner, Intermediate, Advanced
Teacher Since: 2002
Pricing: $10/month
Listing Created: 11/17/2011
Listing Updated: 11/17/2011
More About Me
www.FiddlinMike.com

A LITTLE BIT ABOUT MY LESSONS
Lessons are posted for fiddle, guitar, and mandolin, so all kinds of players can benefit from the streaming lessons and sheet music. Every lesson features a tune or series of licks that the student will learn to play. Fiddlin' Mike uses the tune to communicate specific music concepts, like fingering, bowing, pick technique, intonation, tone, improvisation, theory. These lessons cater to both beginning and advanced students, and are designed to break down the advanced techniques of the masters so that any student can learn and apply them. There are closeups so that you can easily see fingerings and pick strokes (for guitar lessons), and sheet music is placed right on the screen so you don't have to keep looking down at the sheet music printout. Fiddlin' Mike remembers what it's like to be a beginner trying to learn from tapes and videos of other players. Each lesson breaks down both the tune and the concepts in a way that any student can follow and learn.

Not only does Fiddlin' Mike teach the basic melodies of tunes, he teaches advanced improvisations, and often transcribes cool solos from great players, like Stuart Duncan, Tony Rice, and Adam Steffey. If there is a particular tune, lick, or solo that you want to learn, Fiddlin' Mike will always find a way to work it into his lesson plan.

WHY SHOULD I JOIN FiddlinMike.com?
Joining gives you direct streaming access to all my learning material. You have two options for membership: the Gold Membership and the Silver Membership (trial membership). Here's a quick look at each:

GOLD MEMBERESHIP:
This is where the action happens! Gold Members get complete and unlimited streaming access to every lesson in the library, and are guaranteed to receive a new streamable lesson every week. Your weekly lesson will either be for fiddle, guitar, or mandolin (note: not one lesson for each instrument every week, but one lesson on one of those instruments) and Gold Members have access to the lesson archives for all three instruments. Each lesson features a tune or series of hot licks, and is complete with closeups and sheet music.

Why pay $5 per lesson when you can get it all for the low price of $10 per month?

SILVER MEMBERSHIP:
This is the basic trial membership. Silver members can buy lessons individually for $5 each in the STORE, and are put on the mailing list so that they receive FiddlinMike.com news updates. And, because I'm such a super cool guy, I've posted a couple of my fiddle, guitar, and mandolin lessons in the FREE LIBRARY so that you can have fun with a couple lessons at no charge before upgrading to the Gold Membership. But be forewarned, once you try out a sample you won't be able to resist signing up for a Gold Membership so that you can get your weekly lessons!