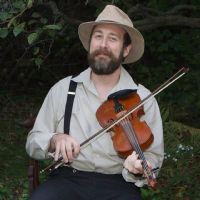 Teaches Lessons: Online, In Person
Levels: Intermediate
Teacher Since: 1986
Pricing: $50/one hour lesson
Listing Created: 2/10/2019
Listing Updated: 9/9/2022
More About Me
I've been teaching stringed instruments since 1986. I've taught everything from Classical to Folk. Many of my students went on to major in music at college with full-tuition music scholarships.

I believe that the student always comes first, and I adapt my teaching methods to accommodate the individual. I understand that what works for one student may not work for another. My lessons are tailored to fit you.

I put a strong emphasis on techniques and bowing patterns that assist my students in learning the style of Old-Time fiddle.

Currently accepting Old-Time fiddle students via Skype and in person for local folks. I also teach workshops remotely, locally, or in areas my travels take me.

Crossover students a specialty, especially those who have a background in Classical music. Can't get that violin to sound like a fiddle? I can help.

Contact me at FiddlerPaul71@gmail.com for more information.