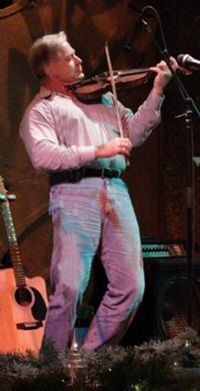 Teaches Lessons: Online, In Person
Levels: Beginner, Intermediate, Advanced
Teacher Since: 1985
Pricing: 80.00/hr-45.00 for 30 mins.
Listing Created: 11/17/2011
Listing Updated: 5/29/2013
More About Me
"If You're Gonna Play In Texas (You Gotta Have a Fiddle in the Band)" proclaims the 1984 Billboard Hot Country Single #1 song. So who did supergroup Alabama call upon to fiddle the memorable chart topper
and the entire Roll On album? Blaine Sprouse.

Three years later, Joe Wilson tapped the Kenny Baker protégé for the National Council for the Traditional Arts' genre-blending Masters of the Folk Violin tour, in which Sprouse was to fiddle alongside Baker. Sprouse was unable to participate due to unforeseen circumstances; sixteen-year old Alison Krauss stepped in, paving the way for her historic rise.

Sprouse continued to carve an impressive niche, performing with both Grand Ole Opry members and young turks of bluegrass, including many who would pick together regularly at Nashville's world famous
Station Inn: The Dreadful Snakes, The Sidemen, Nashville Jug Band and The Cluster Pluckers, with whom Blaine entertained for former president and vice-president Bill Clinton and Al Gore.

Originally from West Virginia, Blaine Sprouse took the music cue from his father, a clawhammer banjo player who taught Blaine guitar chords at age six. The budding musician soon turned to the fiddle, learning on
a glued-together instrument found in a dumpster, plucking tunes for lack of a bow.

By age eleven, Sprouse was playing guitar at local dances, earning enough to buy a ¾-size fiddle and bow. He learned to bow tunes he had previously only picked, working them up for dances. Taking every
opportunity to attend regional bluegrass festivals whenever Bill Monroe appeared, Sprouse followed Baker—Monroe's long time fiddler—"because he was my inspiration. Kenny made the fiddle sound like no one else had."

Before turning eighteen, Blaine fast-tracked his professional career by joining Jimmy Martin as a Sunny Mountain Boy, touring the United States and Japan. After a move to Nashville, he left Martin to fiddle for Bill Monroe's son James in the Midnight Ramblers. This close proximity to Baker, when the two Monroe bands played double bills, positioned Blaine for an unanticipated turn of events.

The young fiddler went on to wear a Blue Grass Boy hat for several months, filling in when a hand injury sidelined Baker. He repeated this role on subsequent occasions. Subbing for Eddie Stubbs, Sprouse
later donned a Johnson Mountain Boys hat for their tour of Moscow. Much in demand as sideman and session player, Blaine toured and recorded with a stunning array of legendary bluegrass and country
artists, among them, Charlie Louvin, Jim and Jesse and the Virginia Boys, and the Osborne Brothers, often performing on the Grand Ole Opry where he had earlier fiddled for Bill and James Monroe.

He joined banjo innovator Butch Robins to found The Bluegrass Band, poised to become "one of the most important acts in bluegrass music," as Robert K. Oermann noted in reviewing Another Saturday
Night, the group's debut album. The ensemble proved short-lived, with Blaine joining the Osbornes and another member, Alan O'Bryant, forming the Nashville Bluegrass Band.

After the release of three critically acclaimed solo recordings, Sprouse produced Indian Springs, a twin fiddle album with Kenny Baker on which they exhibit intuitive chemistry.

Sprouse fulfilled a lifelong desire to return to school to complete his education and earn a law degree. But in 2009, music interest resurfaced when his fourth solo recording, Dogwood Winter, was reissued as Appalachian Mountain Fiddler.

Also a gifted mandolin and guitar player, Sprouse is at home in bluegrass, blues, swing, jazz and folk. With his return to the stage, Blaine's heart is answering the fiddler's call. As he stated in a Frets
Magazine profile, "Music is my life. I just love to play."

Fiddle and bow in hand, Blaine Sprouse is back.