Posted by fiddleplayer2, written by Jay Unger
[download]
- Play count: 294
Size: 3,179kb, uploaded 3/2/2011 10:44:37 AM
Genre: Unknown/None Chosen / Playing Style: Unknown/None Chosen
---
6 comments on "Ashoken Farewell"

George Shepherd Says:
Wednesday, March 2, 2011 @12:30:00 PM
Terry, that is one of the best versions of Ashokan Farewll I have ever heard. Brilliant work!

George

mudbug Says:
Thursday, March 3, 2011 @2:56:47 AM
Amen to what George said, but I'm a little confused. Your profile says that you've been playing for a year at most. I just can't comprehend someone playing at this level in such a short amount of time. Did you put in the wrong date or have you been to the crossroads? :-)

George Shepherd Says:
Thursday, March 3, 2011 @7:25:09 AM
I'm hoping it's the wrong date. If it isn't then I'm looking for directions to these crossroads that mudbug mentions :)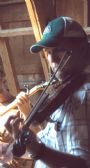 David M. Says:
Thursday, March 3, 2011 @9:04:00 AM
Someone asked FP2 in the thread if it was his playing. Might be Jay's original version?

fiddleplayer2 Says:
Thursday, March 3, 2011 @10:00:24 AM
Jay wrote it his version is a bit faster but I think it sounds better slower.I learn rather quickly on just about any instrument I start playing.

I've been playing music over 40 years so things come together rather quickly for me.

it seems like my fingers know where to go and the bowing seems to come natural. I still have problems with shuffles and the hokum Bow but I'm still learning.

I've also started working on Fiddles and learning to repair them as well as other instruments.

And I'm also studying to be a Locksmith.

irfiddler Says:
Saturday, November 17, 2012 @11:38:52 PM
Sounds like Liza Creek's version - just beautiful.
You must sign into your myHangout account before you can post comments.