Posted by doublestop
[download]
- Play count: 952
Size: 2,625kb, uploaded 7/13/2007 6:47:24 AM
Genre: Unknown/None Chosen / Playing Style: Unknown/None Chosen
Recorded by my bluegrass band, Longway, with me on fiddle.
---
9 comments on "Soppin' the Gravy"

gazawayrad Says:
Monday, August 6, 2007 @10:18:58 AM
I enjoy your fiddle playing, this song is next on my list to learn.

gazawayrad Says:
Monday, August 6, 2007 @10:38:32 AM
You seem like a seasoned fiddler. Do you know where I can find the sheet music to Black Mountain Rag? I would really appreciate it.
Jim

dwoolsey Says:
Friday, August 24, 2007 @11:16:58 PM
I play Soppin' The Gravy ----your version is just great! Your variation on the low part is very nice---I just may have to do some changes to my version. Thanks for putting it on here. I like your style of fiddling not anything missing.

OTJunky Says:
Saturday, August 25, 2007 @10:50:35 AM
Outstanding!!!
--OTJ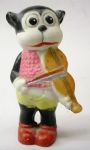 PInky Says:
Thursday, September 6, 2007 @2:21:58 PM
Hoot mon! Does that sound Scottish? Great fiddling - love your version of this tune.
Pinky

mjs4x6 Says:
Tuesday, November 27, 2007 @10:07:47 AM
Fine playing here. This reminds me a little of the way that Art Stamper played this tune.

fiddlebob Says:
Monday, January 28, 2008 @11:49:38 AM
Excellent! ! ! I really like your version.
fiddlebob

mudbug Says:
Tuesday, May 5, 2009 @12:35:20 PM
Yee-Haw! That's some spirited fiddlin' right there.

Ozarkian DL Says:
Thursday, May 28, 2009 @6:23:24 AM
A finger work-out indeed.....some fine fancy fiddlin thar.
You must sign into your myHangout account before you can post comments.