Posted by Genevieve
[download]
- Play count: 539
Size: 1,061kb, uploaded 2/15/2008 4:10:58 PM
Genre: Unknown/None Chosen / Playing Style: Unknown/None Chosen
Read "Hamblen fids" posting for info - see a picture of this fiddle under the "2 point fiddles" section of the web site - You'll see what I'm talking about :o) This sound clip is me on fiddle, Garry Harrison on guitar
---

fiddlebob Says:
Saturday, February 16, 2008 @11:35:01 AM
Good tune, very well played.
fiddlebob

Midwest_Fiddler Says:
Monday, February 18, 2008 @9:36:18 AM
Well alright, that's what I'm talking about. Great tune, well played! Thanks Genevieve.
Chirps

Glenn Says:
Thursday, March 19, 2009 @10:27:50 AM
Yeah I really like tunes like this in this style. You need to post more tunes, because this is just great listening.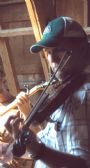 David M. Says:
Thursday, March 19, 2009 @12:59:46 PM
Great tune. Great playing. This tune reminds me of the tune "Duck River" - perhaps a relative of it?
You must sign into your myHangout account before you can post comments.