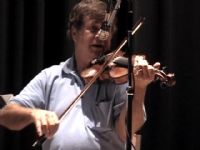 Teaches Lessons: Online, In Person
Levels: Beginner, Intermediate, Advanced
Teacher Since: 1979
Pricing: $40 per one half hour
Listing Created: 11/21/2011
Listing Updated: 11/21/2011
More About Me
Dale Morris, from Texas, has played professionally for many years and has felt it an honor to have been a member of The
Marty Robbins' band, Ray Price's Cherokee Cowboys and Bill Monroe's Bluegrass Boys. In 1981 Dale was named the 17th member of the legendary "Sons of The Pioneers".

During his many years as a professional musician, Dale traveled much of the US and Canada, has also recorded several albums of his own, as well as for others.
Dale has appeared on numerous radio and TV programs, among these The Grand Ole' Opry, NBC's Country Comes Home, The Fall Guy, The Jimmy Dean Show, Archie Campbell "Yesteryear In Nashville", Nashville Tonight.

Dale became a "full-time" music teacher by the early 1990s. At present he and his wife Tobi own and operate a teaching studio in Boyd Texas. They currently have a clientele of students of all ages, of whom they are very proud.

Private lessons are available via SKYPE video, or telephone.