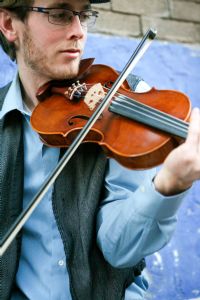 Teaches Lessons: In Person
Levels: Beginner, Intermediate, Advanced
Teacher Since: 2010
Pricing: $30/hour
Listing Created: 11/17/2011
Listing Updated: 2/24/2016
More About Me
Matt Rolland is an accomplished fiddle, guitar, and mandolin player. He began fiddling at the age of 4, entering fiddle contests throughout the western United States and attending fiddle camps throughout his youth. Through these camps, such as the Mark O'Connor camp in California, he was able to study with Darol Anger, Daniel Carwile, Charlie Walden, and Mark O' Connor among others. A natural performer, he began performing at a young age with the Rolland family band.

Matt has garnered fiddling and mandolin awards at the local, state, and national levels. He is a two-time Arizona State Grand Fiddling Champion, Four Corners Open Fiddle Champion, Fiddler of the Festival at the Fiddler's Grove festival in North Carolina, and has placed in the top ten at the National Fiddling Championship in Weiser, Idaho three times. He has twice placed in the top three in the Four Corner's mandolin championship. These contest years are captured in an album of contest fiddle music, Fingerprints, he recorded in 2001 with his brother, Michael. In his senior year of high school, he won the national awards for musicianship and best traditional fiddler in The American String Teacher's Association "Alternative Strings" competition and was a featured performer at their national convention in Reno, Nevada.

In addition to being an accomplished contest fiddler, Matt has received accolades as an old-time fiddler and bandleader. In his third year at the University of Arizona, he started and led a folk-Irish band called The Hermit Tree (www.thehermittree.com) that performed regularly in the Tucson area. In 2008, they recorded a full-length album of original Americana music that has been distributed for television and commercial use. His old-time Appalachian band, Run Boy Run (www.runboyrunband.com), is the 2011 Telluride Bluegrass Band Contest winner. In the same year, Matt performed regularly as the fiddler for the young country sensation, Casey Lee Smith. During the summer of 2010, Matt toured with his father in Western Europe, presenting at two string teachers conferences, performing at the Moniaive Folk Festival, across Scotland, and in northern England. Following the tour, he was a scholarship recipient to study old-time fiddle at the Augusta Heritage Center Old-time Week in West Virginia.

Matt specializes in teaching contest fiddling, old-time appalachian fiddling, and mandolin.