Posted by Mainefiddlehead
[download]
- Play count: 443
Size: 2,672kb, uploaded 2/13/2009 1:50:38 PM
Genre: Unknown/None Chosen / Playing Style: Unknown/None Chosen
This was recorded at Galax Old Fiddler's Convention 2006. Jake Krack is fiddling, Dara Krack and Dave Wall on guitars and me slingin' the jaw harp. key of C
---
7 comments on "Hell broke loose in Georgia"

OTJunky Says:
Friday, February 13, 2009 @5:29:46 PM
Jake's a really good fiddler - and this is nicely done.

But I still like the Skillet Licker's version better... ;-)

--OTJ

Lonesome Fiddler Says:
Friday, February 13, 2009 @10:14:29 PM
Love it. Old timey tasty!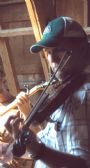 David M. Says:
Wednesday, February 18, 2009 @6:15:35 AM
Extry good.

Mainefiddlehead Says:
Wednesday, February 18, 2009 @2:50:51 PM
This one really makes me want to square dance ! Hands Four, swing your partner, promenade, now back to your corner !

Joel Cooper Says:
Friday, August 9, 2019 @2:02:37 PM
I've read the book and really enjoyed Google it.

Marlon Carter Says:
Tuesday, December 3, 2019 @2:01:55 AM
Well, I am totally agree with the Joel Cooper and his ideas are totally up to the mark regarding these species. You need to get best essay writing service uk now. I have been searching for the same article which he presented here.

You must sign into your myHangout account before you can post comments.